The Global Salon
Before World War I, the most English-speaking expats living in Europe resided in Paris; after that, Dresden: The "Florence on the Elbe" catered to them with a score of English-language newspapers, bookshops, cafés, social clubs, gravestones… even an Anglican, a (Scottish) Presbyterian and an "American" church. Sadly, three-quarters of a century of war, dictatorship and the Iron Curtain killed Anglo-American culture in eastern Germany.
Now, in Thüringen, however, we're changing that…
Since New Year's Eve 2017, a group of native speakers of English in Thüringen meets regularly to build an even better life here through exchange, programs… community.
Here's an invitation to our next meeting on 26 August 2018: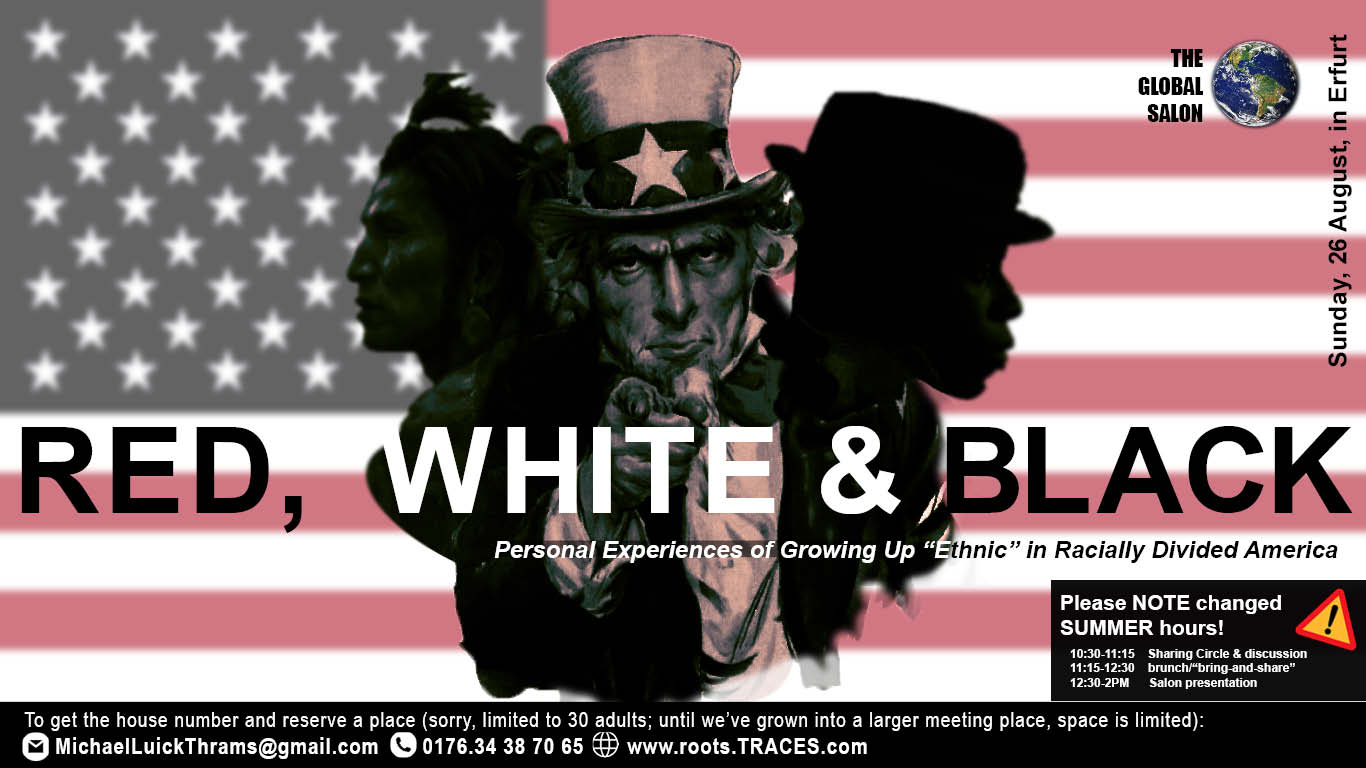 The invitation to the previous events:
June 2018
May 2018

Download pdf(xxxkb)
Download pdf(675kb)
April 2018
February 2018
January 2018
Download pdf(618kb)
Download pdf(643kb)
Download pdf(572kb)
An editor at the Thüringer Allgemeine, Karsten Jauch, especially liked the idea of The Global Salon. He wrote about it in his weekly column "Kunstpause" ("Art Break"), both before its launch and, having been present at that initial meeting, about it afterwards.
new program and exhibit project
Nine Months, Three Powers, Millions of Fates:
Thuringian Social History from January through September 1945
We will take an exhibit throughout the entire state of Thuringia (and, if possible, later through the American Midwest in a retrofitted school bus; click one or the other link to see examples of our previous "BUS-eums") as a way to bring public awareness to regional social history during the first nine months of 1945, during which three contrasting systems (Nazism, "Americanism" and Soviet communism) ruled the territory and affected the lives of millions. It will feature first-person narratives (diary entries, letters, articles, artwork, etc.) from the time, plus recent interviews with individuals with remembrances of events from the period in focus. We will invite visitors to the exhibit to record their stories, too, so that future generations can learn from them.
Words between Worlds
Our on-going programs continue to enrich audiences in schools, museums, religious and other organizations. Contact us to explore hosting one soon in your or a friend's institution.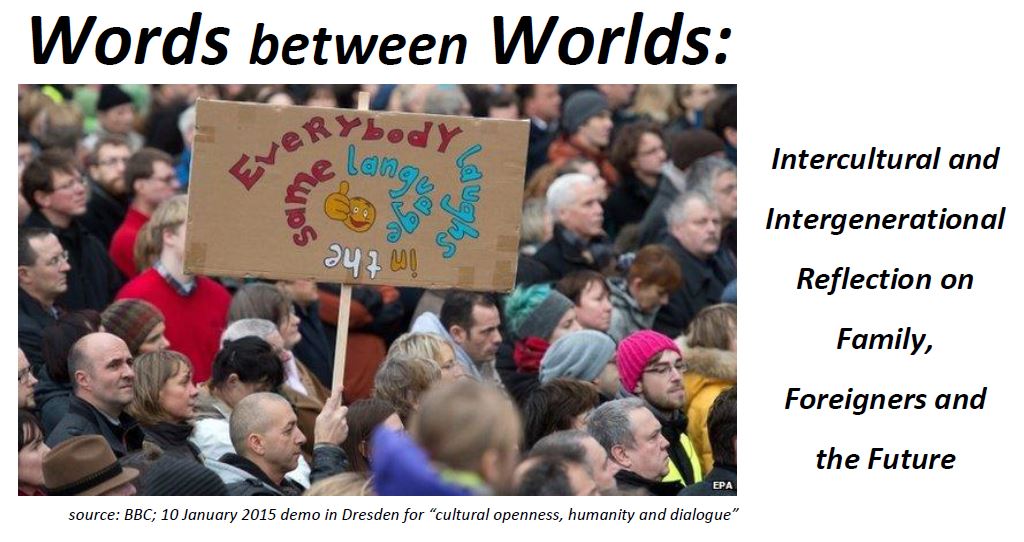 A Project that Creates Space for Encounters and
Exchange between Germans and Non-Germans
Former East Germany generally, but Dresden specifically, faces a considerable challenge at present:
few non-Germans live here. At least so it seems, as many people in the region don't personally know any foreigners, yet fear or disdain them. And, fear breeds conflict.
Spuren e.V. has five solutions: a Malaysian Buddhist, a native Navajo, an Israeli Jew and a Midwest Quaker, a Russian Jew and erasmus-students from Jordan and Armenia.
They bring young people into direct contact with foreigners living in Germany. And, they offer pupils and their families a relaxed, non-polemical space where they can share their own stories with others.
Words between Worlds focuses not on the abstract or political but on the immediate and personal. Its co-facilitators believe that while we all live in a neighborhood, each of us first lives in a house: To make conscious our belief-driven behaviors, then confront and finally change them, we best begin at home. Thus, participants are invited to examine their origins and lives, and those of their families.
Words between Worlds is:
an enriching experience for 9th– to 12th-grade pupils and, if hosts wish, their families
built around a core 90-min. Power-Point-illustrated presentation for schools, churches, etc.
able to be tailored to fit each host's needs, conditions and resources. A visit to a school can take place as a one-time assembly, or as half-, full-day or weekend workshops, using diverse means. Depending on the audience, its main working languages can be German or English.
For more information see www.DE.TRACES.org; to apply to host or attend a workshop, contact staff@TRACES.org.
Thank you for your interest!