For the Spuren e.V. website, please click on the red link above, as it contains information about our German counterpart (i.e. its associates, volunteers, Board of Director members)
Michael Luick-Thrams
A child of the wide, open prairies, I grew up on a farm in
Iowa where the Thramses, then the Luicks lived and worked for 105 years. My family has been in North America since 1630. We came from the British Isles, the Netherlands, several Germanic regions and Denmark. Over those 400 years, we've been part of the classic American experience—the Revolutionary and Civil Wars, the Californian Gold Rush and Westward Migration. We participated in both World Wars, the Civil Rights "movement" before it was one, and the cultural revolution of the 1960s and '70s. We also, however, were touched by national tragedies such as the Ku Klux Klan revival of the 1920s, the head-in-the-sand McCarthy era of the 1950s and the U.S.'s criminal war in Iraq. (Ironically, it was my country's constant readiness to wage war—specifically, Jimmy Carter's reinstating draft registration in 1980—that led me to become first a pacifist, then, at age 17, a Quaker.) Such a colorful heritage, however, not only enriches a family, but calls it to bear responsibility to build a better future. This rare legacy, in part, motivates my working as well as private life—every day, day after day.
Operations Coordinator

Current Assistants
Demetre Chinchaladze

A native of the Republic of Georgia (not the Peachtree State), I became involved with Spuren through meeting Michael, who encouraged me to get involved with what he promised to be an exciting non-profit educational project. While my tasks here mainly have been along the lines of website and flyer/PowerPoint presentation design, I've become increasingly confident in the overall project's use of history as a way to facilitate encounters between groups of people: different ethnicities, nationalities, religions, ages, generations, etc. I love our work together and am proud that thousands of people will gain greater awareness of history and their place in it through my designs. Isn't that a great thing?
Current Workaway and Other Volunteers
Christina Bergmann

Having grown up in the former East Germany and now as a student of history, I have a special interest in Michael's project and his approach to looking at the past. The idea of living and working through our own history authentically means a lot to me in the context of my participation in TRACES in that I have a personal connection to the time of National Socialism. Even as a child, my grandparents told me about their experiences and impressions of the 1940s. As I grew older, I began to process all of these stories – the sad and traumatic experiences of my grandmother, who had to flee into shelters due to the bombing by the Americans, and the hopeless accounts of my grandfathers, both of whom served in World War II and one of whom was himself a Soviet prisoner. more ...
Influenced by the suffering and lives of these people who are very important to me, it is a very personal concern of mine not to offer a space to the official and publicly relevant people, but to the "little" people who actually write history – their suffering should not be forgotten. My vision for the future is to give people a reformed awareness of the past during my academic career, which has the goal of museum work, and to give them new ways of thinking, because not everything is black and white.
Marla Betz
[TBD]
Recent Workaway Volunteers

Cécile Delaune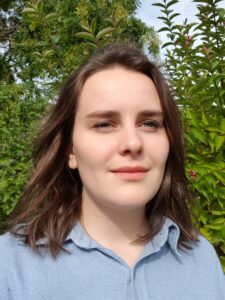 Born in Rennes, Brittany, France, I recently graduated with a degree in film studies in Lyon. My studies allowed me to better understand the world of cinema, especially production and direction. I wish to use my knowledge to help associations and defend causes that are important to me.
With my internship, I have the chance to meet passionate people. I'm happy to be able to help advance the mission of the TRACES/Spuren project. I will help the association to explain its work in the form of short vidéos. I also help with many other things such as setting up the exhibition, publicity and the organization of the museum bus in the United States. My stay in Bad Langensalza is also an opportunity for me to learn more about German culture.
I am convinced that the TRACES/Spuren project's work is essential to learn from the past in order to better build the present and also, to avoid many stories being forgotten.
Melissa Grosche
I am 19 years old and come from beautiful
rural North Hesse in Germany. The history of our past and my hometown has fascinated me and my family for a long time. The opportunity to delve deeper into the German-American history of the Second World War was then offered by a voluntary internship at Spuren e. V.—where I also worked on TRACES Center for History and Culture projects. Originally, however, I was about to start a year abroad in Canada after graduation. The "Work & Travel" trip was meant to broaden my horizon and let me get to know the nature and people of Canada. However, the Covid-19 pandemic forced me to change my plans. I am all the more thankful that, despite the lockdown in Germany, I could help Spuren e. V., whereby I learned a lot during my seven weeks stay.more ...
This includes e. g. transcribing an interview with an eyewitness, helping to create new exhibit panels, but also dealing with the press, ranging from television and radio to newspapers and websites. Most interesting, however, were the new and almost unknown chapters of German-American history and the stories of Thuringia at the end of the war in 1945.
As a youth from former West Germany, my time in Thuringia was very impressive and rich in experience and I learned to understand better the culture of the former East Germans better.
My internship with Spuren also helped me in that it has strengthened my goal of studying history, because I have noticed that I am passionate about researching the past and talking to people about their own.
Anna Hermouet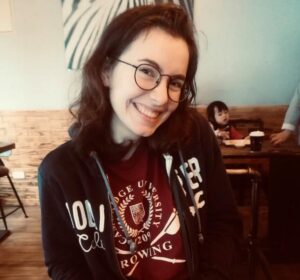 Born in France, in the Parisian region, I felt in love with the South-West region three years ago. Luckily, since I am now studying at Sciences Po Bordeaux and the University of Bordeaux, where I follow a double degree in Political Sciences and Modern Literature.
My interest in contemporary history was born in high school through my participation to the National Competition on the Resistance and Deportation – a historical project on World War II –, as well as an option which allowed me to follow courses about German war memories and German post-war politics. I then decided to study at Sciences Po Bordeaux, where I wrote my third-year thesis on the memories of Auschwitz and Hiroshima and their impact on German and Japanese post-war literature. I am interested in the past legacy on contemporary societies and believe in the significance of works and stories through which one can put faces and names to history.
more ...
Last year, I got the chance to exchange in Tokyo, Japan for a year. This raised my desire to travel and enjoy new experiences abroad. Thus, Traces/Spuren e.v. social-history project stands as an opportunity to immerse myself into German culture and language, while learning about German and US history more in depth and discovering the beautiful region of Bad Langensalza.
Alison Jackson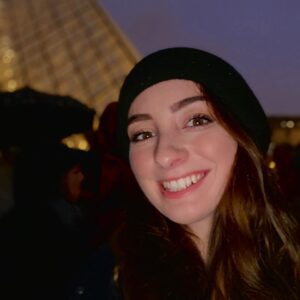 I grew up in the suburbs of Gaithersburg, Maryland which is a 40-minute drive from Washington D.C. So close to a major city, I got to enjoy the perks the city life offered while also enjoying the stillness and comfort of the suburbs. For example, I frequently visited the remarkable Smithsonian museums in D.C. As someone that is proud to have grown up in Maryland, I decided to also attend college here and recently graduated with a BS in Psychology from the University of Maryland, College Park. While in undergraduate, I became very invested in cultural exchange, research, and history. I was able to study abroad in Alicante, Spain briefly. Living in Spain taught me how impactful it is to build relationships with other communities and embrace the similarities and differences of our cultures. Due to the pandemic, my program was cancelled but I desire to immerse myself in a new culture once again. I am very grateful for the opportunity to stay in Bad Langensalza and experience German culture firsthand.more ...
I have a goal in the foreseeable future to pursue a career in health care. Before furthering my education to become a health care provider, I've noticed by examining my mentors that the best health care providers are skilled at communicating with people of various backgrounds and cultures. As I prepare for this next chapter of my life, I want to dedicate time to working with a multicultural team to improve my interpersonal skills to prepare myself for interacting with patients of all walks of life.
My overall goal in life is to leave a positive impact on the world which is what motivated me to work for TRACES. I am proud to work for TRACES as the organization works hard to ensure a brighter future by exploring dramatic history events and ensuring no voice is left unheard.
Vered Keasar

I am from Jerusalem, Israel. I have a BA in Arabic language and literature, and I am studying for an MA in public health. I am passionate about the struggle against the occupation of Palestine, and against the violence and separation politics that go with it. I believe that to achieve a better future we have to acknowledge history and its effect on individual people's lives. This is what interests me in the Spuren project – I want to learn about strategies for dealing with the past, as part of the search for ways to live together justly and respectfully.
My family's not-so-distant roots are in Germany, Romania and Poland, and our story is tied to the events of the Holocaust, WW2, and the arrival of communism. This makes Spuren's work especially interesting to me.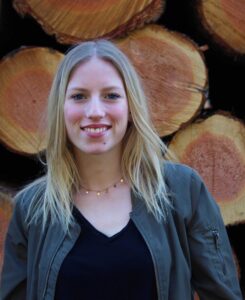 Together with my siblings, our parents raised us in a small city in Baden-Württemberg, Germany. Since my parents originally came from Bonn and Bremen, I don't only feel connected/rooted to Swabia but also to other cities like Bonn, Bremen, Hamburg and Munich: In this way, I was able to discover and get to know many parts of Germany. When I came to Bad Langensalza in May 2021, however, I realized that I've never been here before. I immediately fell in love with the beautiful city and the wonderful team headed by Michael and Joerg.
I have always been interested in history. I loved to listen to my grandparents when they talked about the past—especially the experiences from the Second World War and the post-war period really thrilled me. History lessons in school and museum visits with my family also educated me about different chapters of our past.
more ...
Even though I only stayed ten days in Haus der Spuren, I learned a lot about the post-war period, in particular about POWs in the USA and Germany. I am very grateful for this enriching experience and hope every intern will enjoy the work as much as I did.
Konstantinos Kotsiras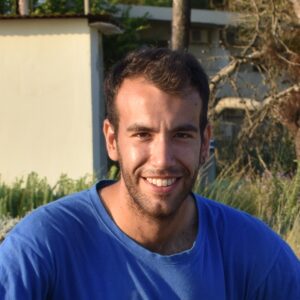 My name is Konstantinos, but you can call me Dino!! During COVID times I found myself in Germany, travelling. It is not something new! The past 10 years I have been wandering around and volunteering in multiple causes, both at home and abroad. Oh yes! I come from Athens, Greece!
I have studied Chemical Engineering and Ecology (yes I know, how is this related to History??), but I am mostly interested in the organisation of society, how humans condact themselves and how we can create more resilient, open and inclusive communities.
more ...
In Bad Langensalza, I joined a very promising project, exploring the personal lives of people who witnessed great and terrible historical acts. In their attempts to come to terms with uncontrollable events, I hope to find answers on how society copes with periods of extreme stress, pain and death. Their testimonies are a valuable educational tool and, since the modern world is not a kinder place, the past might provide, if not answers then, inspiration.
I am originally from Leicestershire in the UK, and was based in Bristol in the South West until December 2020, when I moved to Germany. Before I left the UK, I worked for the last 10 years for a national UK charity (chiva.org.uk); I wanted to use some of my skills in a new context as I started a new life in Germany, so I looked for a volunteer opportunity and came upon this social-history project. I am very interested in human life experiences and personal stories, so both the approach and the detailed work of this project really spoke to me. I have been learning a great deal about the experiences of Germans and Americans linked to this area through WW2, and how these experiences impacted individuals, their families and communities, and later generations, their ideas, outlook and politics. It has given me a sense of place by being able to understand a little more about this complicated history, and what this can teach us as individuals and as a society today.
Phil Noble

I was born in São Luís, Maranhão, Brazil and I grew up in a multi-cultural family in rural Suffolk, England. My upbringing gave me an open mind to the world and an eagerness to learn about other people. Currently, I am studying geography at the University of Manchester. With Workaway, I had the opportunity to help at the TRACES/Spuren project. My work has consisted of helping with getting the new museum in Bad Langensalza started. Working here has made clear to me the complex series of events that have shaped not only Thüringen but the whole of Germany into the country that we see today. Working in the project "9 Months, 3 Systems, Millions of Fates" has been a pleasure. It emphasises on social history and the human story. To me, the project showcases the consequences that our individual thoughts and reactions have on people around us and that we are all responsible for the security of our future. Through this project I have met a diverse, friendly and passionate group of people who have an important story to share and preserve.
Bruce Patrick

I was born in the heartland of the United States, in Kansas, of mid-western parents whose families had lived in Kansas for generations. My first ten years my family settled in Missouri, and I grew up out in the countryside among the working farms. While my family did not farm, I was exposed to many farm families and saw the hard work they put in. We later moved to Texas, near Dallas, where I spent my teenage years. I studied political science and history at the University of Texas and later attended law school there. Most of my career I worked as an international tax attorney for the large petroleum company ExxonMobil. I traveled all over the world negotiating important Production Sharing Contracts with foreign governments and state oil companies, permitting Exxon to explore for and produce oil and gas both on land and offshore. In the process I came to know people of many nationalities and learned both how we were different in our cultures and histories and what values and culture we shared.
more ...
Later in my career I worked as a Managing Director with the major accounting firm, PriceWaterhouseCoopers, also focusing on International tax. After retiring in 2012, I spent several years helping non-profit organizations with their accounting and reporting issues. When I met Michael and first became acquainted with Traces organization, I found the historical work fascinating. I've always found European history and the history of the two great wars fascinating. Traces focus on the individual stories of those swept up in the war really brings an important narrative thread that makes the broad strokes of war history more real and human. I was amazed to hear the histories of interred Americans and German POW's who resided in camps in the United States. Most Americans have not been exposed to these stories and Traces plays an important role in spreading the word. I am very pleased to be able to offer my volunteer services to help with the accounting and tax filings of the Traces organization.
Artur Ramos
I was born in Setubal, a port city in Lisbon region. Even though Lisbon is a great place to be born, when I was in high school, I realised that I want to explore more and further. I studied English and French to be able to go abroad and communicate with people from other countries. I participated in a school project that allowed me to go to Strasbourg (France), to represent my country in the European Parliament. After my high school graduation, when I was 18, I spent one and half month in Kokkola (Finland) as a European volunteer. After that amazing experience, I took a gap year and I did a European service in Mulhouse, France. During my gap year, I applied to many universities in several countries. However, I fell in love with France and I decided to study at Science Po Strasbourg, the Institute of Political Studies of the University of Strasbourg. I'm about to finish the first year of my degree in May 2021.
more ...
I had a great experience studying History during my high school years and I've been studying German since October 2020. So when I found Traces-Spuren, I was thrilled to do an internship in the association and experience German culture in Bad Langensalza.
Nicolas Ville
I was born in France, in a region near the border with Germany. I grew up in a mix of French and German culture. It was common to go across the Rhein to go to the swimming pool or to go shopping at Lidl. Now in my first year of university, I was looking for an internship abroad. Fond of sociology, Spuren's unorthodox approach of History seduced me. After hearing of the association by a workaway announcement, I decided to come and help. For me, it is the occasion to finally work and explore more of the country that sat right next to me throughout my childhood.
.
Drew Winkelmaier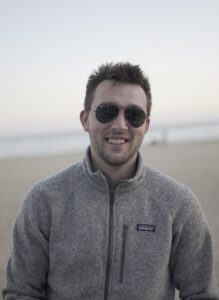 I was born and raised in Reno, Nevada where I spent my time playing baseball, going to school and playing outside with friends. The majority of my young life was spent on a baseball field. Eventually, I was offered an opportunity to play college baseball in Idaho. As much as I wanted to become a professional baseball player, life had other plans. I found myself back in Reno, where I went to University and earned a degree in Journalism. I specialize in multimedia journalism. I can create podcasts, shoot photography and produce videos. I do enjoy politics and usual things a journalist would write about, but I am more drawn to stories about people, how they view the world and struggles they have faced to make them the way they are. Really, I am fascinated by the human condition and the trail it leaves behind each of us that ultimately makes us who we are.
Today, I find myself enjoying the simple things: Family, friends and the food that brings us all together. I love to travel and immerse myself into new cultures. I am obsessed with trying new foods that I could have never thought of. I am always excited to travel to the next place and cannot wait to see what Germany has to offer.
Former Partners
Veronica Guyader
I hail from Wright County, Iowa,
though a first-generation-born American (USA). My parents immigrated from France and Chile: Through our travels, and my parents' interests in history, the arts and cultures, I was influenced in my early years to learn from others and the places we visited.  Both of my parents lived through extreme changes in their home countries, and they related their experiences and histories of their ancestors to my sister and I as we were growing up. We both dove into history, culture and languages in high school and college. I was a Student Ambassador for the UK and Ireland, have lived in Spain, and did an education study in Chile. My expertise ranges from Hispanic Cultures and Civilizations, Asian History, European History, Midwestern frontier life and Native American histories; I also have a background in Classical Voice, Instrumental Music, Cultural Anthropology, Rural Sociology and Community Development. I have volunteered and worked at various museums and historical exhibits including: more ...
Woolstock's (Iowa) 125th City Anniversary; Swedish Heritage Museum–The Swedish Foundation of Iowa's Swede Bend Settlement, Stratford, IA; the Heartland Museum, Clarion, IA; Wilson Brewer Park- Historic Park and Museums, Webster City, IA; and the Fort Dodge Historical Foundation's Fort Museum and Frontier Village, Fort Dodge, IA; various years as an assistant to the curator, board member, and most recently as Executive Director; and former member of the Iowa Museum Association. Currently, I am on the advisory board for the Historical Committee of the Webster City; museum consultant and cultural event specialist for the Swedish Heritage Museum in Stratford, IA; and Executive Director of the George Reeves Memorial in Woolstock. I work from home as a book editor, historical researcher, historical presenter and estate manager.
I became involved with TRACES when Dr. Michael Luick-Thrams ambushed me at the Fort Museum and Frontier Village while I was wrapping up a member event. That ambush led Michael and I to joint efforts in historical education in autumn 2016; and, I assisted him with social media outreach during his 2016 US-Senate campaign. Since then, I have assisted him with numerous writing projects and now am running social media outreach, and curation acquisitions for the TRACES' BUS-eum project.
In my free time I enjoy genealogy, traveling, hiking, restoring my family's prairie and woodland savanna, digging for items from the first settlers to Wright County and Native Americans from the area, and painting.
Irving Kellman
I was born in Minneapolis, Minnesota, on 20 December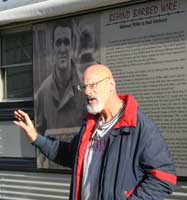 1946 at St. Mary's Hospital, the only hospital in the city that would allow Jewish doctors to do the work they had trained for. My parents were both born in Russia at the turn of the century and came to the United States as young children—my mother to Chicago, my father to Minneapolis, where they met in 1937 and married in 1938.
I graduated from high school in 1964 and began traveling the country soon after—New York City in fall 1964, and Washington DC in spring 1965 for the first anti-Viet Nam War rally held in the nation's capital. In the summer of 1965 I braved my way to Mississippi, Louisiana and Alabama to do civil rights work, and then to New York, DC, Chicago and San Francisco in late '65 and early '66, doing anti-war organizing and protests. I stayed in San Francisco for the hippie era and "Summer of Love" in '66-'67. In 1968 I moved to Los Angeles and got a job managing the Cinemateque 16 in Hollywood, the foremost "underground film" theater in the country, showing avant-garde and experimental films by Robert Downey Sr., Stan Brachage, and the early works of Andy Warhol, among others.more ...
I returned to Minnesota in 1970 and attended the U of M for two years, studying humanities and philosophy. I left for Canada and the Queen Charlotte Islands off the coast of British Columbia in '73, came back in '74 and got a job as a deckhand and first mate on tow boats, pushing barges on the inland rivers of the mid-continent. For the next eight years I lived nowhere and everywhere, working and living on the tow boats eight months of the year, traveling all over the rest of the U.S. the other four.
In 1982 I married an artist who painted in the sumi-e style of Japan, and opened an art and handmade crafts gallery in Wayzata, Minnesota. The marriage and the gallery both went belly up in 1991, and I again began drifting around the U.S., visiting old friends, making new ones, and working a myriad of odd jobs. In 1995 I began delivering pizzas for a pizzeria in an upscale suburb of Minneapolis and enjoyed life for 11 years before growing bored—when I once again began a quest for something new and different to do with my life. Along came Michael Luick-Thrams, a TRACES ad for a "BUS driver" on Craigs List, and a new adventure in traveling the backroads of the American Heartland.
Driving the BUS was one of the most challenging and gratifying jobs I have ever had. I drove the two BUS-eums for several years, across 25 U.S. states, to hundreds of showings for tens of thousands of people. I found it challenging, keeping a 40-foot-long bus going straight and being on time while navigating the winding and narrow paths of the back roads that comprise the heart of Mid-America; gratifying in meeting the wonderful and colorful people who populate those back roads. After half a decade's respite, I look forward to again accompanying the BUS-eum around the American Heartland.
Greg Mock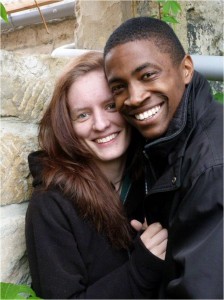 I was born and raised in the Philadelphia area in the American Northeast. Being involved in many church organizations and sports helped me to stay out of trouble and to be focused. My athletic skills earned me a track and field scholarship at Lock Haven University, where I later received my bachelor degree in International Studies. During my college career, I got in contact with many foreign exchange students from around the globe and from that moment on, my world view expanded. Becoming friends with the international students offered me connections to travel and I was able to work in Germany and in France, where I met my German wife, Johanna. Working for a Christian youth-and-family-services organization in Dresden was a big challenge. I came there not knowing the language; I was of another skin color and from another culture. I had many good but also traumatic experiences in Dresden, and in the hard times I had to put my faith in Christ. In my free time, I like to read my bible, learn other languages, dance, work out, and offer help to those in need. I look forward to working with Spuren e.V. because the members try to bring people together and attempt to establish peace through learning about one another.
Kristine Zylstra-Tabke
I grew up on a family farm near
Sibley, Iowa. My family roots are Friesen/German, English, Irish and Pennsylvania Dutch. In August of 2015, I got married and moved to Marcus, Iowa, where my husband is a veterinarian. We live on an acreage outside of Marcus, and have 2 dogs, 4 horses, and 11 chickens. I taught 5-8 & K-6 vocal music in Cherokee, Iowa, for 14 years. In 2017, I "retired" from teaching. A couple months ago, I happened to meet Michael at a Winter Solstice party in Decorah, Iowa. I learned about TRACES and their mission, and was immediately hooked! Fortunately, he was looking for someone to help with the BUS-eum tour, so we exchanged contact info… and here I am. I love to learn, and have learned so much already. The educational/ cultural/ historical impact I can see TRACES having on people will be a great fit for me.more ...
In my free time, I enjoy traveling to visit my daughter in Wisconsin, or various friends/family around the region or country. I've done some international travel—mainly to Mexico, the Netherlands, Germany, France and Belgium, but have a long list of places I still want to visit. I also enjoy playing with my dog Millie, cooking and baking, gardening, crafting, riding motorcycle, playing games with friends/family—and so much more.
Former Interns
Haneen Al Nabar

"Longing for the day" seems pretty intense when, in fact, it is merely my first name when translated from Arabic into English. What made me so interested in studying translation is simply this: How something as simple as a name in one language can mean so much in another—and that is what has drawn me to TRACESpuren.
I have always wanted to work with people who are interested in how this world began—with people who are not afraid to speak of how the world turned into the one we are in today. Michael is one of the most influential people I have met, because he is dedicated to his work; he leads his life so simply that it feels effortless to live around him. I hope that I can implement what I have taken from more ...
this team into my community and talk about everything that has made us Arabs to become this welcoming, over-spoken nation, which is divided by borders but united by language.
I was born in the capital of the Hashemite Kingdom of Jordan, to a family which is dedicated to its land and religion. I was never against what they believed, I just wanted to know more. So, I was the kid who was looking at ants and wondering what they were thinking. My father was able to study in Arkansas, in the US, so he knew how much we need to be introduced to several cultures in order to be thankful for what we have. I am thankful to my parents, my religion, this internship opportunity, and everything that has lead me to where I am now, today.
Michael Geusen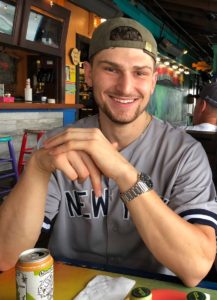 I was born and raised in Aachen, the westernmost city in Germany. Within 10 minutes on my bike, I could be in both Belgium and the Netherlands. In general, I was confronted with interculturality ever since, as the streets of Aachen are teeming with people of all kinds of origins. This is because of the RWTH University of Aachen and the proximity to the Ruhrgebiet, a region famous for waves of mass immigration from southern and eastern Europe during the 1960s and 1970s due to the coal boom in the area.
After I finished school, I decided to go to Namibia as a volunteer. This experience had such a great impact on my life that I would never be the same afterwards. Ever since, I have been to different countries in Africa and am closely working with the non-profit organization Milandila e.V., which implements projects to improve accessibility of education for marginalized communities in Uganda.more ...
Currently, I am studying primary school education and American studies at the University of Erfurt. On the long term, I want to dive more into life coaching and adult education. I have dedicated my life to helping others and love to inspire people to become their best selves.
Kamul "Sohan" Hasan

I am from South Asia, born in the densely-populated country of Bangladesh. From my childhood, I wanted to be a journalist, so later earned bachelor and master degrees in Mass Communication & Journalism at the University of Dhaka. After graduation, I joined as a staff reporter at Desh Television Limited, then worked as a news editor at www.ajsarabela.com. But, I was not satisfied in my work because of enormous and vigorous political pressure, restrictions, mismanagement and corruption in the mass-media sector, as well as in other fields. So, I have come to Germany to have an international degree. Currently, I am studying for a master's in Media and Communication Science at Technical University Ilmenau, because I want to work in human rights, with high qualifications. I am very glad to be with TRACES, where I'm researching grants in the United States that might help fund the resumption of the Coronavirus-suspended BUS-eum tour. By volunteering with this organization, I can visualize my ancestors and realize the ardent relevance of human history.
Alontae Johns
I am a 17-year-old gal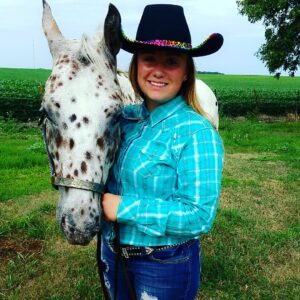 who grew up in a small town near Ames, Iowa, working around horses. I moved to a farm outside of Marcus, Iowa, to live with my cousin, Kristine Zylstra-Tabke, in the fall of 2018, to complete my education. I am currently home-schooled around the level of 11th grade: I was given the opportunity by my cousin and her husband to compete on a higher level with horses as well as finish my education. I am involved in the local 4-H club in my county, where I compete with my horses. With Kristine starting her employment with Michael, she talked to me about what she was working on, which peaked my interest. Once Michael came to visit to get the ball rolling for the opening weekend of the BUS-eum tour, I figured out it would be neat to be a part of this project. I have learned so much from just doing small tasks on the surface of the history included in the tour. I look forward to seeing the BUS-eum when it is complete and the variety of history offered.
Sandro Kakhetelidze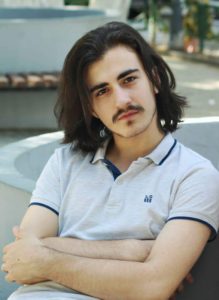 I was born in Tbilisi, the capital city of Georgia. Since I was a child, I always wanted to become an actor and here we are. I'm a student at Ilia State University's faculty of drama acting. Actors must be multifunctional people; they do a lot of stuff that we see around in our life. We see them on TV, in theatres, movies, on billboards and we can hear their voices on radios, in video games and animations. The last part of the list is my job at the moment. I'm a voice actor and voice director. At first, it was just a hobby, but after a while it has become a profession. My dream is to get a scholarship, continue studying in London, England, and become a professional actor. In the meantime, I am happy to support TRACESpuren by helping to record Michael's narration of his Power Point presentations, which Demetre then animates in such exquisite detail. It has been a fun, exciting and interesting process to watch. It pleases me, that thousands will see–and hear–our work. In this way, our efforts really do "Bring History to Life!"
Suhaib Khalaf

I was born on 25 March 1994 in Amman, the capital of Jordan. I started the elementary school in Jordan, but I finished high school in Saudi Arabia. In 2012, I started my bachelor degree in International Accounting at German Jordanian University. As a part of my studying program, I have to spend one year in Germany to study and to undergo an internship. After finishing the first semester at Dortmund University of Applied Sciences and Arts (FH Dortmund) in the west of Germany, I started searching for an internship. Upon the recommendations of friends, I found TRACESpuren as a good choice for me. Here, I can gain experience not only in accounting but also in management and in participating with other people in another activities. In addition to getting the chance to see  another part of Germany (the east of Germany). I'm pretty sure that after finishing my internship at TRACESpuren I can go back to Jordan with new ideas and excellent experience in my major and another important thing how to deal with new cultures.
Hussam Khoury
I was born on 15 March 1993 to a Christian-Arab family in
Amman, the capital of Jordan. I studied accounting at the German Jordanian University, and went abroad for a year in Dresden, where I studied international business in the HTW (Hochschule fuer Technik für Wirtschaft) Dresden and did my internship with TRACESpuren, where I met people from different cultures who are volunteers for the greater cause, and their goal is to stop racism and xenophobia. I learned a lot from their enthusiasm to deliver to thousands of others the message of this two-country, non-profit educational organization.more ...
I also took part in the international conference for Economics, Business and Financial Challenges in MENA & GCC Countries*. Moreover, I got certificates in the "Financial Statements and Balance Sheet Components" as well as in "Forecasting & Budgeting". I will not stop there: I'm planning to earn more certificates in the field of accounting in order to get a master's degree.
Other than my studies, I am a big fan of sports. I used to play soccer, basketball, field athletics and ended with boxing, which I dedicated part of my life to practice.
I look forward to the day when racism will end and peace will come to the world, where I will try my best to help in any way that I'm capable of, to erase racist ideas from the people who are around me.
*(Note: refers to the MENA – Middle East & North Africa countries; "GCC" refers to the Gulf Cooperation Council, to which belong Saudi Arabia, Kuwait, Oman, Katar, Bahrain and United Arab Emirates [UAE])
Carolin Kirchner
I was born in Erfurt in the last days of the 
GDR dictatorship, where I spent the first 18 years of my life. After I completed my M.A. in film studies, history, and comparative literature at the Johannes Gutenberg-Universität Mainz I moved to San Francisco. Due to a Fulbright fellowship I was able to complete a second master's degree in cinema studies at San Francisco State University. For the last five years I have lived and studied in Los Angeles. In June 2018 I will finish my PhD degree in Cinema and Media Studies at the University of California, Los Angeles (UCLA). A dissertation stipend of UCLA allowed me to return to Germany and I am currently living in Erfurt with my American husband A.J. more ...
My parents, grandparents, and my brother were all born and have lived in Erfurt their whole lives. My great-grandparents were Erfurters as well –if I had researched my family tree I would be able to pinpoint how many of my ancestors have resided in Thuringia. Thusly, I am the only member of my family so far that has left Erfurt—even though I cannot determine if I will not be back for good this time.
Umit Kuzhan
I was born to Turkish immigrants who moved to the 
United States to build a better life.  This led me to be heavily involved with the Turkish community in Levittown, Pennsylvania. My hometown was very diverse, which led me to meet people from many different cultures and religions.  This upbringing opened my eyes to the rest of the world and to international issues.  I attended Temple University and graduated in 2017, with a bachelor's degree in Social Work. During my time at Temple, I worked with refugees from many different countries, and the experience made me passionate to help those in need around the world.  I moved to Erfurt, Germany, in June of 2017 to get my Masters in International Social Work, in order to give me the resources and expertise needed to work with disadvantaged populations around the world.  I am currently interning at TRACESpuren to gain knowledge and experience pursuant to my own goal of starting a non-profit organization that will help serve disadvantaged populations around the globe.
Seyedmahmoud Monemian
I was born on the 7th of February 1984 in Tehran, Iran.I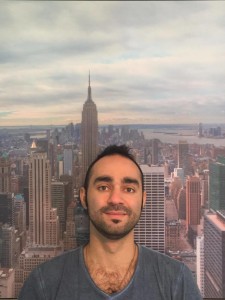 did my pre- university studies in Tehran and startedmy Bachelor studies at the Faculty of Forestry and Forest Economics at the University of Tehran, Iran.In 2012, I was adnitted to the Georg- August UniversitätGöttingen to pursue my graduate studies in Tropical and International Forestry. At the moment, I am working with Spuren to get to know the people and a variety of cultures, customs and ideas from all icer the world as well as introducing my culture and country to the people with the aim of integration .
.
Anna Overla
I was born in Kansas, on May 19th 1998, but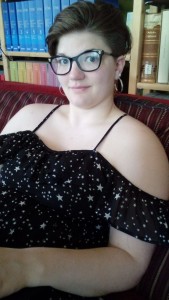 moved to the old family farm in Dallas Center, Iowa, where I've lived ever since. I grew up in the Midwest countryside, watching our cornfields grow—and going to school in town. My parents both have a deep appreciation for history, art and culture, which they wanted to pass on to me. Because it's difficult to get those things in the middle of a cornfield, we went on trips to various museums, national parks and cultural centers throughout my childhood.
Currently, I am a student at Central College in Pella, Iowa, working towards a double major in Political Science and French. I found out about TRACES andmore ...
"Spuren e.V." when Michael presented at the college in spring 2018; as I started learning more about the organization and what goes into making the different programs, I found that the subject matters and underlying messages aligned with my passions and beliefs. So, when Michael offered an internship over the summer, I was ready to work for such a unique project.
Belinda Sidabutar
Born to an Indonesian diplomatic family offered me a rich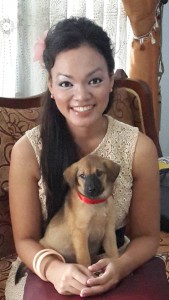 experience with people and cultures, seeing that life is pretty much the same everywhere on Earth, with differences on how humans live their lives, in accordance to the environment and tradition passed on to them. Having been born in Berlin, Germany and grown up in Indonesia, North Korea, the Philippines, Greece, Vietnam and Canada helped me see that despite the geographical boundaries and what is seen as cultural differences, it boils down to one reality: We are all humans, who need to be treated, understood and valued as humans. As a Christian I want to honor God with my background. TRACES is the perfect place to do that.more ...
Having pursued music, teaching and linguistics as well as architecture out of interest for each respective field, as well as being given wide opportunities, I am currently continuing my master's degree in architecture at the Technische Universität Dresden, with an eye on carrying out projects between Indonesia and Germany in the future. I am taught to live up to my name which stands for Berlin and Indonesia, giving me a great desire to bring both countries closer together in the future.
Board of Directors
Current Board Members
Tanya Demmel
I have a diverse background of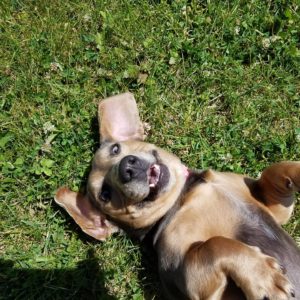 experiences and interests. I earned my Bachelor of Science in Natural Science—with an emphasis in chemistry—at Missouri Western State College (now Missouri Western State University) of Saint Joseph. I earned a Master of Arts in Adult Education and Training from the University of Phoenix (online campus) and a Master of Science in Instructional Design for Online Learning from the Capella University's online campus. I have worked in nursing homes, hospitality and in big-box retail starting as a cashier and moving gradually to assistant manager. more ...
Needing a change, I became a team manager at a wireless-mobile-phone customer-service center, where I fully discovered my passion of helping people learn, when I became a training manager. Most recently, I have served as the Museum Coordinator of the Cedar County Historical Society (in Tipton, Iowa), learning much about Cedar County's history and developing a specific interest in the "Cow Wars." In my spare time, I enjoy reading and working on cross-stitch. I also love to spend time with my pets, which often include a foster or two from a deployed-military family.
Steve Feller
I have taught at Coe College
for more than 40.  Since 2016, I have been Coe's first Research with Students Professor. My research in physics centers on the atomic structure and physical properties of glass. In this area, I have worked with about 350 students. With these student colleagues I have published more than 160 papers in the refereed literature of the field. Also, I have edited a number of books on glass science, digital circuits and holography. My students and I have given over 300 presentations, at well over 150 national and international conferences.  Also, I have a research-level interest in numismatics, the study of the history of money: In this area I have published over 140 articles, parts of several books, and in 2007 I coauthored (with my daughter Ray) Silent Witnesses: Civilian Camp Money of World War II, now the standard in the field. I serve on the board of TRACES and frequently give presentations on its behalf.   I have given numismatic presentations at Seton Hall University, Coe College, Wartburg College, Simpson College, the University of Innsbruck, Oxford University, various synagogues and churches, numerous, numismatic conventions and societies, libraries, many local clubs such as the Optimists, and several other organizations. more ...
I have been married nearly 50 years to my wife Barbara. We have two daughters, Ray Feller and Heidi Berger, and grandsons Max, Leo, Isaac, and granddaughter Ramona.
I have been honored in a number of ways, including:  Conference Honoree, IX International Conference on Borate Glasses, Crystals, and Melts, Oxford University, 2017; Sigma Pi Sigma (national honor society in physics) Outstanding Service Awardee at Phys Con, 2016; named Centenary Fellow of the Society of Glass Technology, 2016; elected Chair, Glass and Optical Materials Division of the American Ceramic Society, 2014-2015; elected Fellow of the American Ceramic Society (2003) and the British Society of Glass Technology (2003); Physics Club Chapter Advisor of the Year by the national Society of Physics Students (2000); Distinguished Iowa Scientist by the Iowa Academy of Sciences (1999); and Iowa Professor of the Year (1995) by the Carnegie Foundation for the Advancement of Teaching.  Also, I was given the 1993 American Physical Society Prize to a Faculty Member for Research in an Undergraduate Institution. During spring and summer 1996, I served as a Fulbright Scholar to the United Kingdom, where I did neutron scattering studies of glasses and crystals.  I have visited many universities, labs and institutes, including Visiting Scientist (2016); Rutherford-Appleton Lab (Harwell, UK); Visiting Scientist (2016); University of Innsbruck (Austria) Visiting Scientist (2016); National Hellenic Research Foundation (Athens, Greece); Visiting Fellow (2011); Institute of Advanced Study, University of Warwick (UK); and Visiting Scholar (2009) Ben Gurion University of the Desert (Israel). In 2001 and 2006, I was visiting professor of physics at Sojo University (Japan) and the University of Warwick (England).  From 1996-2002, I served on the national board of the Society of Physics Students.  In 2002, I was elected the president of Sigma Pi Sigma, the national physics honor society, a position to which I was reelected to in 2004.  I was the chair of the organizing committee of the 2008, 2012, 2016 and 2019 of Sigma Pi Sigma Quadrennial Congresses (the only national meeting for undergraduates in physics).  I felt especially gratified to have been awarded the C.J. Lynch Prize as Teacher of the Year by the 1993 senior class of Coe College.  In 1987, I was named B.D. Silliman Professor of Physics at Coe College.
Kim Hermsen
Growing up in a small Iowa
town, I early on developed a love of reading that allowed me to visit faraway places and times. As an adult I have had the privilege to visit some of those places in person– Asia, Africa and Europe. One of my favorite trips was to Berlin, where I developed a deeper friendship with Michael Luick-Thrams.  I have traveled alone, with friends and, later, with my husband. Diverse cultures, with their art, culture, and history fascinate and thrill me. I love to explore exotic foods, and relish recreating them for friends and family.  At the same time, I also adore being home in our 1920s bungalow with our two children and pampered pets, who keep us running with music lessons, riding horses, and yearly travels to help our children also fall in love with creation. Then, of course, there's my lifelong love of books—which, as a children's librarian, is a helpful proclivity to have. I have worked in libraries for over 30 years, trying to engender a love of reading, learning, and exploring in the youth of my community. My interests in the world of ideas is also a motivation for my being a board member of the TRACES Center for History and Culture, since in that small way I can help others and have a bigger impact culturally.
Former Board Members
Lynne Carey
The Director of the Ames Public Library (APL), I began
my tenure at APL as a temporary hourly worker while attending ISU, fell in love with its mission and never left. In previous years, I also was heavily involved in politics, serving as campaign manager for several candidates and working as an administrative assistant in the Iowa Legislature. I received a BS from ISU in psychology and women's studies. I'm also one of the rare Story County natives who stayed put. My Iranian-born spouse, Navid Emami, and I love traveling, but appreciate the small town living that Iowa offers. I possess extensive experience with program planning for all ages at APL, and am a successful grant writer and fundraiser, currently working with the Ames Public Library Foundation.
Sandy Harmel
A devoted grandmother, friend of felines
everywhere and a staunch fan of history, I've worked with Michael Luick-Thrams and TRACES since 2008. As director of Cedar County Historical Society in Tipton, Iowa, I oversee the stewardship of the world's only permanent exhibit about the Scattergood Hostel for European refugees, which existed in the far southwest corner of Tipton County. For more information about its mission and work, visit the CCHS's website.
Paul Juhl
After graduating high school in Webster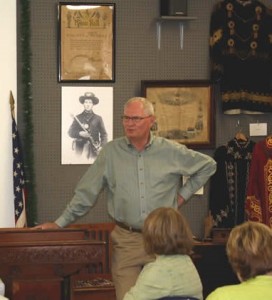 City, Iowa, I attended the University of Iowa, Iowa City, for an undergraduate degree in history and education.  A few years later, I attended the University of Northern Iowa, Cedar Falls, for a Master's Degree in College Student Personnel Work.  I also have additional graduate work at the University of Northern Colorado in Greeley.
My career choice was being an educator in secondary education and I worked at various schools, both public and private.  Most of these years I served as a high school guidance counselor.  The most unique experience was, perhaps, the years spent working at Institut Montana, a private boarding school in Zugerberg, Switzerland.  This is the same school attended by John Kerry, our present Secretary of State, when he was an adolescent.
more ...
Always maintaining an interest in Iowa history, for the past thirty years I have been an active collector of early Iowa photography.  This has centered on carte de visites, cabinet cards, and stereographs created in the 1870s and 1880s.  The collection numbers well over 3,000 images.  These are all shared with the State Historical Society of Iowa for the use of researchers.

I have also written for a number of historical magazines and have published ten spiral bound books that deal with some portion of Iowa's fascinating history.  Some of these topics have included the Abraham Lincoln grandchildren, the Pulitzer Prize novelist MacKinlay Kantor, the artist Grant Wood, and the legend of the early years of the actress, Sarah Bernhardt.

My home since 1985 has been in Iowa City, a place where there are several libraries that specialize in Iowa history topics.  In retirement, I have also enjoyed being a frequent speaker on a variety of topics of a historical nature. 
John Schmacker
A Des Moines native and contemporary of Bill
Bryson, I'm now a retired accountant and restaurateur who's still active in Democratic Party and other progressive politics. I enjoy collecting art (especially paintings), throwing parties and scouring the newspaper every morning.
Thomas Weber
I discovered my calling as a volunteer when 70
children of Southeast Asian and Ethiopian refugees showed up one evening for open gym in Seattle. As the son of newly arrived immigrants as well, I grew up in the San Francisco Bay Area and graduated with a degree in History from Reed College in Portland. I lived in New Mexico for fifteen years, teaching history, geography and civics to grades 6-12, as well as coaching basketball and Model United Nations. During that time, I earned a second Bachelor's in Education and an MBA at the University of New Mexico. I served as a middle school director and as head of school for two different schools from 2001 to 2012 before joining Scattergood as its Assistant Head of School in 2013.
I have presented at a number of regional and national conferences about curriculum design and have collaborated actively with other schools on initiatives designed to deepen understanding of students and educators about diversity issues.
more ...
I'm married to textile artist Amy King Weber, who, 
along with her own work
, has been active in building arts organizations in three different communities. Cooking, music, and hiking top the list of my' many interests, and there's always time for good conversation, staying in touch with our two grown daughters, and playing or watching a game of basketball.
For a glimpse at what I'm thinking and reading about education, take a look at my 
Twitter feed
.
"Out beyond all notions of wrongdoing and right doing, there is a field. I'll meet you there. "~ Rumi (1207 – 1273), 13th-century Persian Muslim poet, jurist, theologian, and Sufi mystic

 "What I've come to learn is that the world is never saved in grand messianic gestures, but in the simple accumulation of gentle, soft, almost invisible acts of compassion, everyday acts of compassion. In South Africa they have a phrase called ubuntu. Ubuntu comes out of a philosophy that says, the only way for me to be human is for you to reflect my humanity back at me. " ~Chris Abani (1966), Nigerian author
Former Volunteers
Jeremy Bird
I was born and raised in Southwestern
 Ontario, Canada.My maternal grandparents were part of a German community in what is now Hungary.  Just after the Second World War, they were relocated to Germany; then emigrated to Canada: I, therefore, have German and English roots. During and just after university, I worked for several years with young people in residential settings.  I helped them to develop social skills and essential life skills, such as time and money management, hygiene, self-care, nutrition, etc.
I have a long history of volunteering: I was the music director for the university radio station more ...
and took part in various environmental initiatives aimed at environmental protection, reforestation programme.  I was a founder member of a cycling advocacy group, which promoted safe cycling infrastructure projects and developed safe cycling routes throughout the city.  My whole life I worked and studied with people from every continent.  We celebrated each other's festivals, ate each other's food and enjoyed each other's cultures. In 2006-7, I spent a year in Germany as an exchange student to get know my German heritage.   As I endeavoured to improve my German language skills after I returned to Canada, I met a woman who's now my wife: We decided to move to Germany together.  I am working intensively to fully integrate in Germany, so I look forward to passing on some of my experience of doing so to other newcomers to this society—and I feel confident that I'm in a good position to do so.  I am also able to use my experience of Canadian integration models in this context.
Sally Campbell
I'm a Quaker singer-songwriter, a personal organizer
(a "Friendly de-cluttering consultant") and an activist for peace, nuclear disarmament, disability rights and the environment. I live on Manhattan's Upper West Side with my husband, Chuck, who works at the Drama Bookshop on Times Square in Midtown, and our fat and lazy tiger cat, Duncan.
In 1996 I retired from the New York Public Library after 35 years as a children's librarian at the Library for the Blind and for two years as president of the New York Public Library union.
more ...
After retiring, I spent the last years of my mother's life with her in my hometown of Guilford, Connecticut, a bittersweet time I would not have missed for the world.
Currently, as well as doing my de-cluttering work, I am an active member of the Morningside Quaker Meeting, which meets Sundays in the Neo-Gothic tower of Riverside Church, and I am on the steering committees of the Peoples Voice Cafe and the Peoples Music Network.  In 2013, at my 70th birthday party/concert I recorded a CD called Giftsongs and Blessings which is available for free by writing me at
scampfriend@earthlink.net
.
I've come to believe that we each will be given whatever help we need from the Friendly Spirit if we will just slow down and listen. It is surprising what one may hear—such as the songs I have been given.
Ceceile Hartleib
I am a professional artist living and working in St.
Paul, Minnesota. I studied art at Atelier LeSueur, which was located in the posh, lakeside suburb of Excelsior. My paintings include portraits, landscapes and still-lifes in oil and watercolor. Garrison Keillor owns my landscape, Cathedral of St. Paul, and my portrait of Nikita Khrushchev hangs in Moscow, Russia, in the collection of Nikita's son, Sergei Khrushchev. I teach painting in my studio in a converted, studio-filled warehouse in St. Paul, and at a local atelier.
I'm married to Quaker Terrence Kayser, a former TRACES board member, videographer and community volunteer. I'm active in Groveland Unitarian-Universalist Fellowship, having served two years as president, as well as in several arts organizations, including those involved with St. Paul's frequent "Art Crawls". My volunteering with TRACES has included working in the museum, which was located in St. Paul's Landmark Center for several years. more ...
I sold tickets, gave tours and wrote book synopses—even cleaned out the BUS-eum on occasion. I am now serving as chair of TRACES' board of directors.
A mother of two, with three granddaughters living in Los Angeles, I was born in Sandusky, Ohio, to German-American parents—my father having been born in Germany before immigrating to the Midwest as a young boy. In April 1912 his older siblings and parents literally heard screams from the sinking Titanic as the ship his family was aboard—the George Washington—was on the ocean a few hours east of the Titanic; the following day they passed the site of the sunken "unsinkable" steamship and saw debris from the disappeared ship, bobbing atop the waves.
Alex Nelson
I graduated from the University of
Wisconsin-River Falls in spring 2010 with a Bachelor's degree in History and a minor in Anthropology. After spending three months on a study-abroad tour of Europe, I resolved to become an archeologist specializing in Classical-Mediterranean civilizations. I have continued my education and currently…