The Global Salon:
CORONA Edition
The following entry shows a photo from 26 January 2020 of English-speaking expats living in Erfurt, having just chewed on intellectual sustenance provided in an elaborately illustrated and narrated PowerPoint presentation by Anahita Arian–and just before chewing our way through a buffet table filled with post-presentation delights. Nowadaze, such a casual, physically-close gathering is only a dream, nay a mere mirage of "What Once Was"… Too soon thereafter, we ceased meeting–until, that is, we dared to meet (relatively "distanced") on a sunny Friday early evening on 12 June 2020. Decimated by understandable fears of contagion, here is a scene of the few brave souls whose hunger for social contact and intellectual stimulation was still (or "again"?) greater than our fears… oh, and not to mention our hunger for non-German food!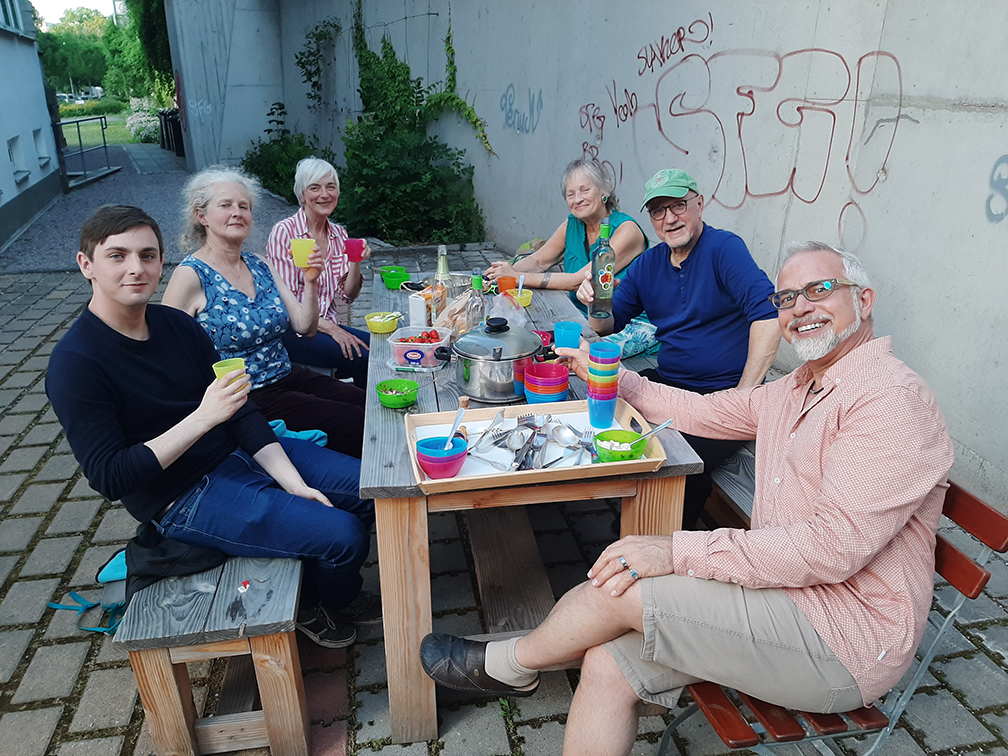 Going forward, we know now not, when we once again shall gather in such pursuits… but may it be very soon…
The Global Salon
Before World War I, the most English-speaking expats living in Europe resided in Paris; after that, Dresden: The "Florence on the Elbe" catered to them with a score of English-language newspapers, bookshops, cafés, social clubs, gravestones… even an Anglican, a (Scottish) Presbyterian and an "American" church. Sadly, three-quarters of a century of war, dictatorship and the Iron Curtain killed Anglo-American culture in eastern Germany.
Now, in Thüringen, however, we're changing that…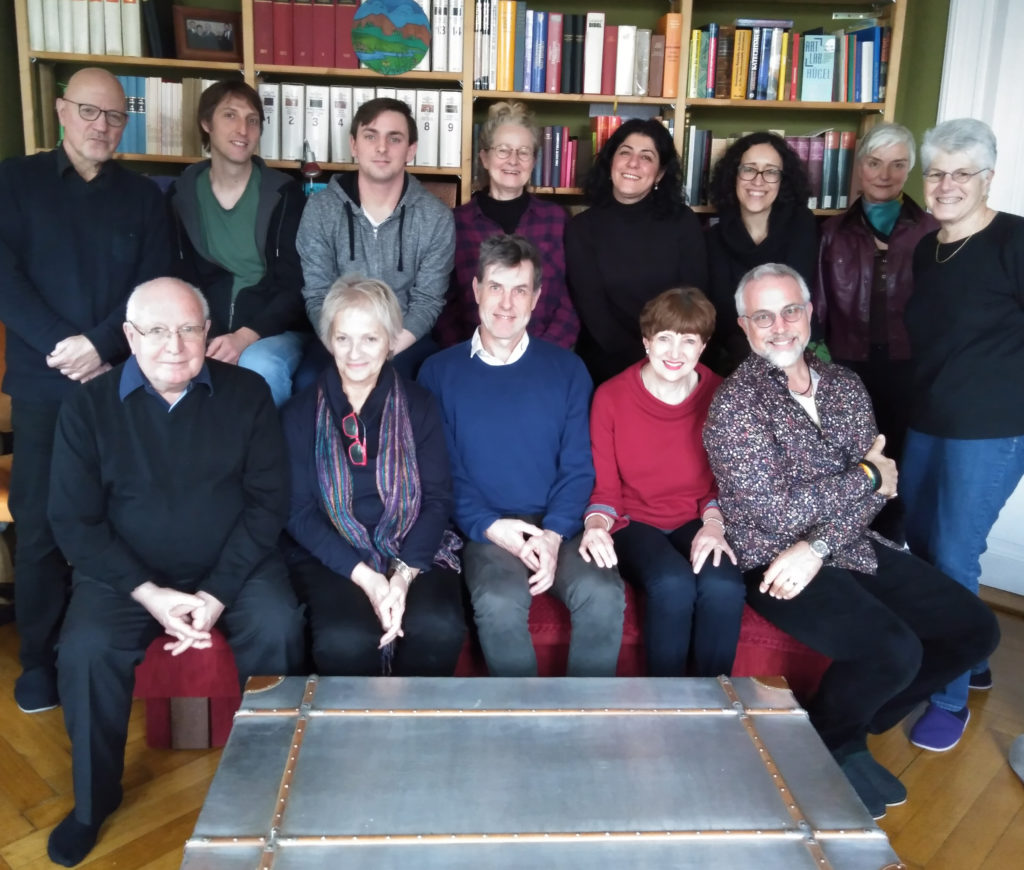 Fifteen expats attended Anahita Arian's presentation "The 17th-Century Safavid Diplomatic Envoy to Siam: A Politics of Knowledge Formation" on Sunday, 26 January 2020. They included, in the back row, from the left: Tim (Texas), Jeremy (Ontario), David (Ireland), Lelah (Ontario), Anahita (Iran and the Netherlands), Carolina (Spain), Sabine (Erfurt) and Shelley (California and New York); front row: John (Yorkshire), Barbara (Missouri), Stefan (South Africa), Marianna (Romania and Britain) and Michael (Iowa). As a group, we have lived in myriad countries, in addition to those listed: (e.g.) Turkey, South Korea, [then-extant] Czechoslovakia, France, Bangladesh, Brazil, Ecuador…
Since New Year's Eve 2017, a group of native speakers of English in Thüringen meets regularly to build an even better life here through exchange, programs… community.
Here's the invitation to our meeting on 26 January 2020:
Posters about previous Salons follow:
November 2019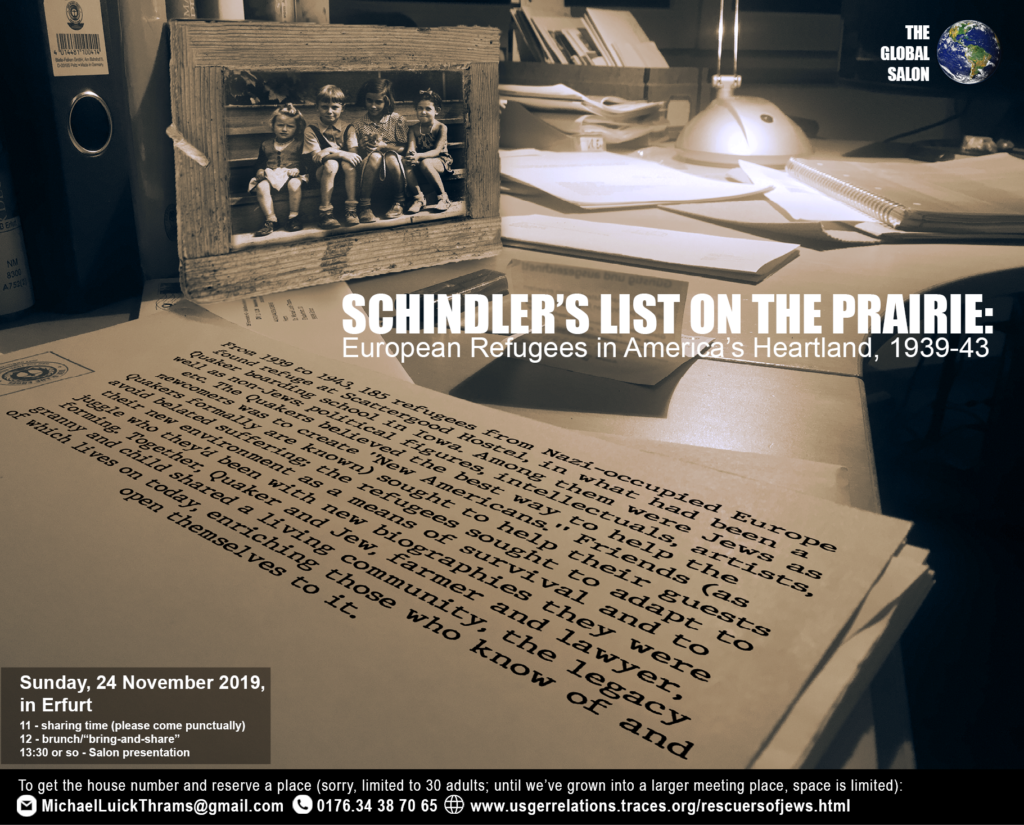 October 2019
August 2018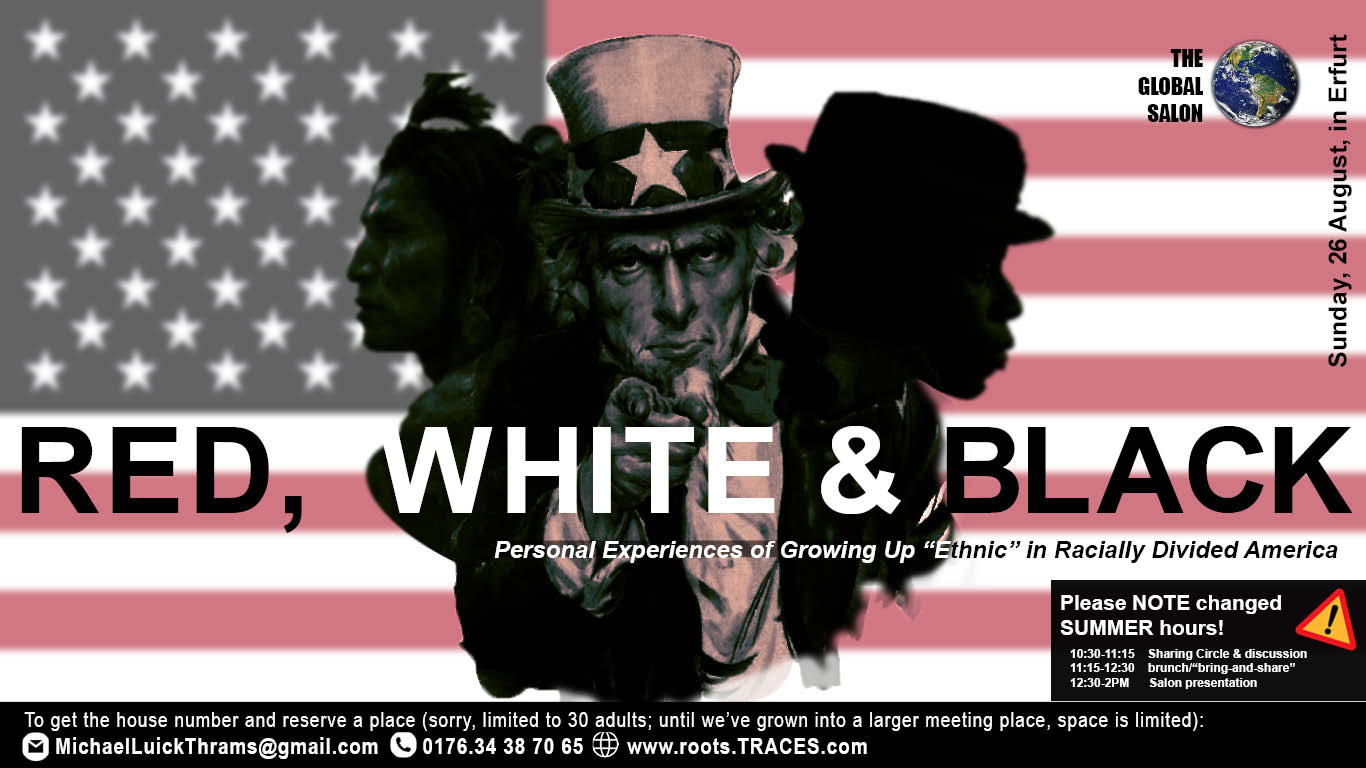 June 2018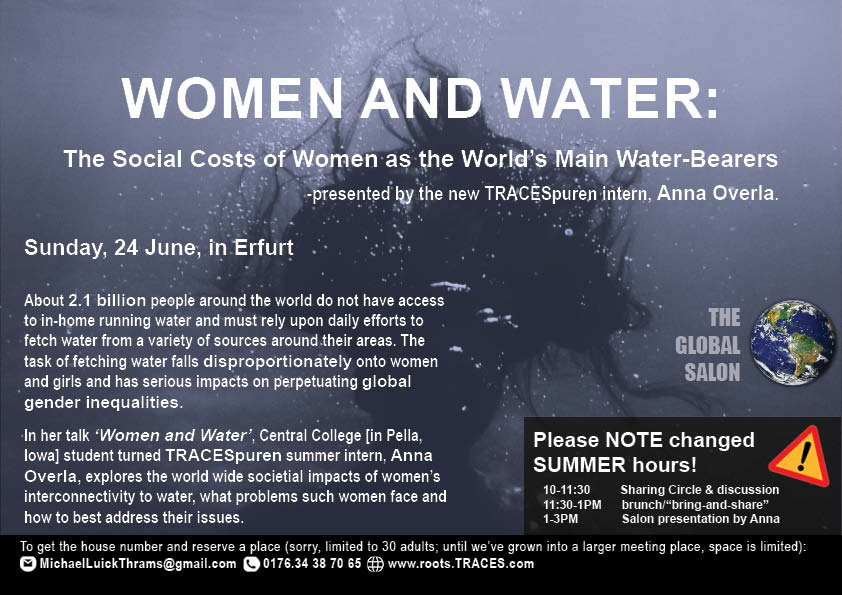 An editor at the Thüringer Allgemeine, Karsten Jauch, especially liked the idea of The Global Salon. He wrote about it in his weekly column "Kunstpause" ("Art Break"), both before its launch and, having been present at that initial meeting, about it afterwards.
_
"In Luther's Footsteps:"
Midwest College Students Explore Erfurt
On 17 January 2020, 17 students from Luther College (Decorah, Iowa) toured Erfurt, as part of an extensive, three-week tour of Germany focused on classical music. One of their two chaperones, music professor James Griesheimer, accompanied them during their 12-hour exploration of the provincial capital, led by TRACESpuren director, Michael Luick-Thrams.
After a greeting and quick orientation in front of the Hauptbahnhof, the students explored Thüringen virtually at the regional visitor center opposite the main station: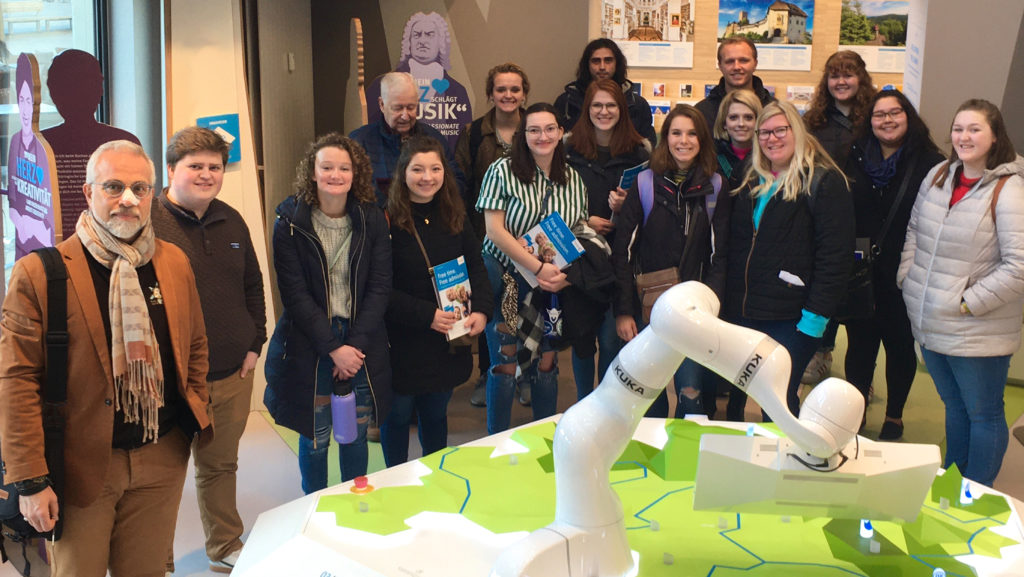 Local-guide Michael Luick-Thrams, freshly operated on to remove cancer, and some of the freshly-arrived Luther College students, viewing the "360-Degree Discover Thueringen Digitally" display in Erfurt, the capital of the province of Thueringen
Then, their rigorous discovery tour through the ancient city began in ​​earnest:
The afternoon's itinerary included a visit to a Holocaust memorial site, Topf & Söhne, the factory infamous as the "maker of the ovens of Auschwitz." Special to their tour, the students took turns narrating excerpts from Luther College students who fought in World War II—which proved to be exceptionally meaningful to these contemporary students.
"The War Correspondence of Luther College's Student Soldiers"
download: PP presentation (pdf) or script (pdf)
That evening, following a self-guided tour of the Andreasstrasse STASI-prison memorial, all involved appreciated "lighter" fare for dinner—a Medieval dinner banquet in the arched-ceiling cellars of Wirtshaus Christoffel: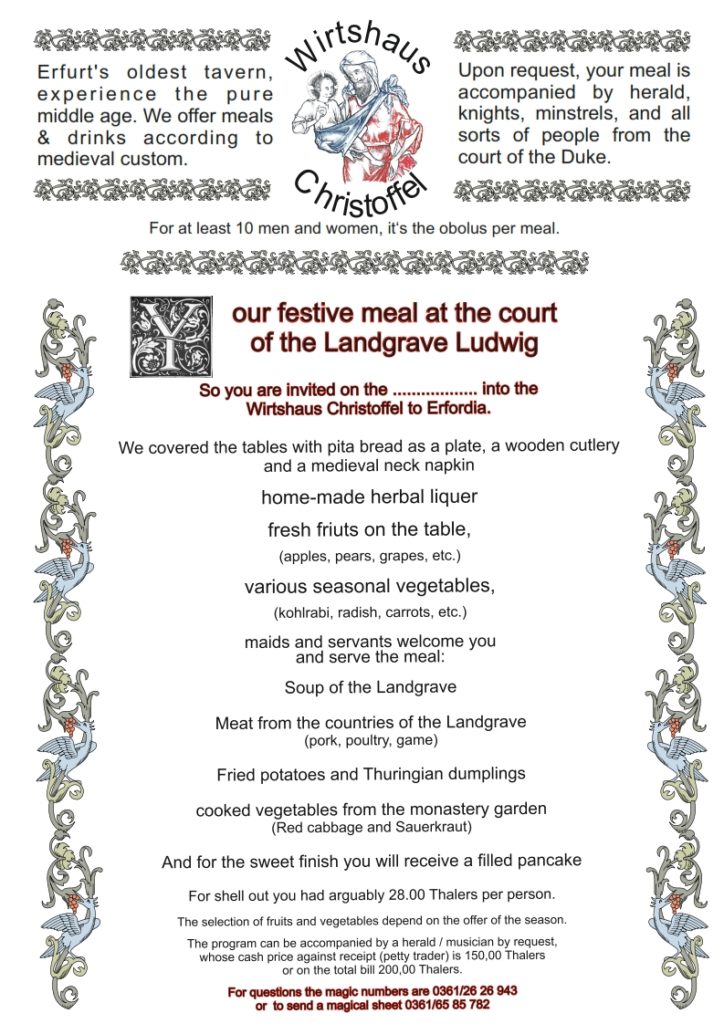 The students and their local guide ended the evening with a view over Erfurt's Altstadt ["Old City"] from the Stadtpark, the "City Park" on a hill on the backside of the Hauptbahnhof. Sad to see the students go even before they departed per an ICE fast train to their hotel in Eisenach, Michael Luick-Thrams stayed in contact with the students intermittently for the rest of their trip—including, on the day of their tour of Dachau, sending them both a film of American soldiers liberating the camp as well as a link to photos taken of the camp by some of the Midwest soldiers who supplanted Nazi rule there.
_
Celebrating the Haus der Demokratie +
the 70th Anniversary of German Basic Law:
" – And What's That Got to Do with Me?"
Projektwoche – 2019
son Christian Krauter (left) with his mother Anneliese,
and Michael Luick-Thrams; Meiningen, 1 October 2019
From 30 September to 2 October 2019, pupils at Regelschule "Am Kiliansberg" in Meiningen (Thüringen) considered their own families' roots and experiences by exploring those of others. Michael Luick-Thrams presented to them stories from German-American history as background for special guest Anneliese (née Wiegand) Krauter, who came all the way from Indianapolis to share her story with the pupils:
It was wartime on the US home front. She was an American—wasn't she? Anneliese had been born in New York, of German-immigrant parents (one already naturalized, one awaiting that). As citizens, the eight-year-old girl, her older brother Freddie and her Waldorf-hotel salad-chef mother "should" have been guaranteed due process when "Lee's" father was interned as a suspected traitor—but they were not. Instead, they "voluntarily" took residence at Camp Crystal City, until they, too, were "repatriated" and forcibly sent to Europe, where the family was traded for Axis-held US nationals… and then the Wiegands' adventure really started! It took them to Anneliese's father's hometown of Meiningen…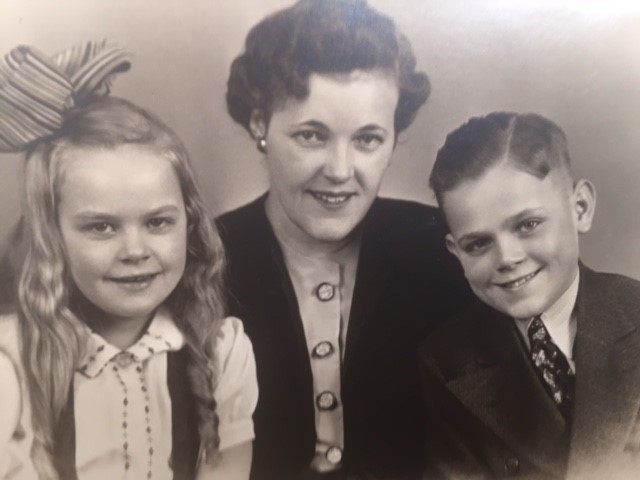 caption written by Anneliese (left): "Xmas 1942 family pic we sent to Pappi
while he was in internment camp" near Bismarck, North Dakota; the
photo shows Anneliese, mother Alma (née Wiedrich) and brother Freddy
…where the Kiliansberg pupils used Anneliese's fascinating story as a launching point to write their own. They presented the products of their work to the larger school body at a special program, shown here: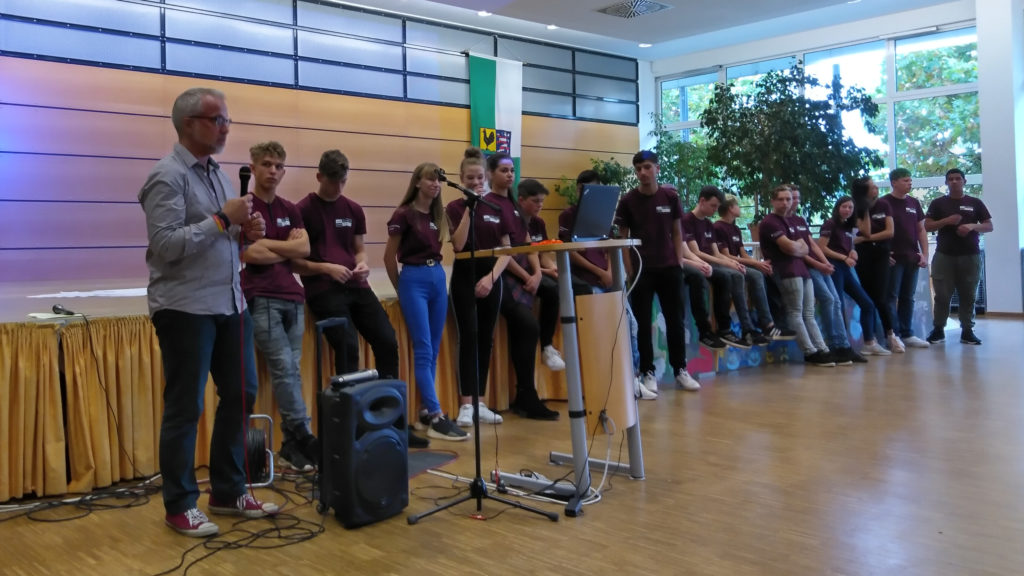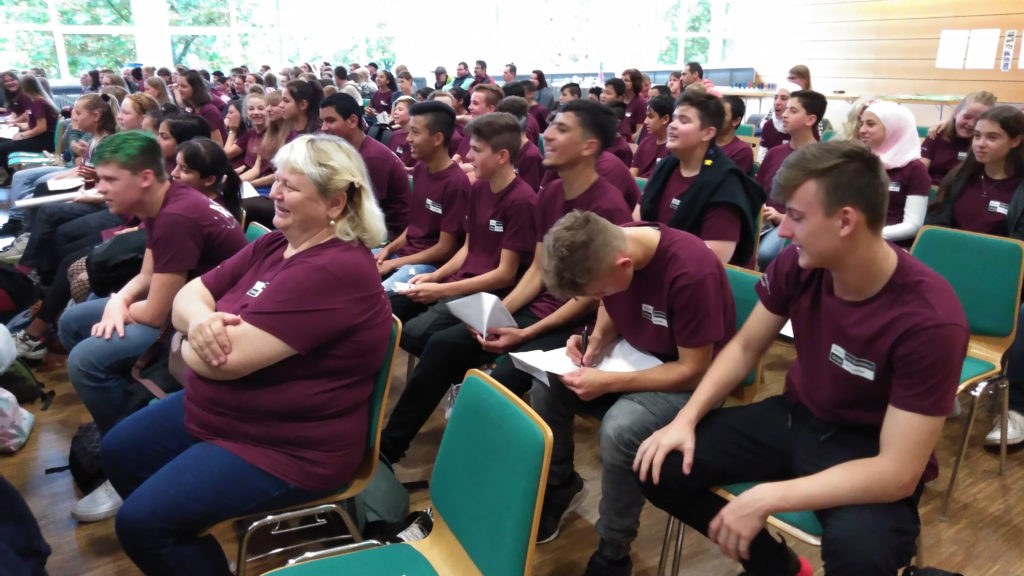 _
"Our Hometown's Becoming More Colorful!"
Images of Our City – 2019
At the Erfurt Schiller School as well as at the Community School am Roten Berg in Erfurt several days on on-site projects under the motto " Our Hometown's Becoming More Colorful!" in August, and September and December 2018, carried out with the aim that the students become more aware for their fellow human beings and to more sensitive to how they treat them.
Kevin Manygoats, Greg Mock and Dr. Michael Luick-Thrams each spoke about and showed pictures of their childhood and their families (respectively) on a Navajo reserve in Arizona, in an "inner-city colored ghetto" in Philadelphia, and on a farm in Iowa, with a great-grandfather/namesake who was a member of the Klu Klux Klan—which particularly persecuted Catholics. Their very personal family stories reflected the theme "The Roots of Racism in America". This raised questions such as: "Why are colored people, Indians or Catholics persecuted?" In concrete terms, the pupils could talk about the roots of conflicts, e.g. in the family, in a school class or on the street; they come into conversation with their guests or each other, and think about how conflicts in Erfurt today could affect their coexistence.
Palestinian Thaer Issa and Israeli Sagy Cohen reported on how they grew up in one state with an "enemy" image of the other. The pupils discussed the concept of home and what it means for them. Hatem Adi, a refugee Syrian, talked about his life before and during the war in Syria and what it meant for his family in everyday life. The students asked interested questions and learned what fears and terror he had to overcome in the war and during the flight to Europe. In the class, several immigrant students are (e.g.) also refugees from Syria. For the first time, these students told their classmates what they themselves had experienced in Syria and during flight from their dramatic experiences.
_
Nine Months, Three Powers, Millions of Fates:
Thuringian Social History from January through September 1945
We will take an exhibit throughout the entire state of Thuringia (and, if possible, later through the American Midwest in a retrofitted school bus; click one or the other link to see examples of our previous "BUS-eums") as a way to bring public awareness to regional social history during the first nine months of 1945, during which three contrasting systems (Nazism, "Americanism" and Soviet communism) ruled the territory and affected the lives of millions. It will feature first-person narratives (diary entries, letters, articles, artwork, etc.) from the time, plus recent interviews with individuals with remembrances of events from the period in focus. We will invite visitors to the exhibit to record their stories, too, so that future generations can learn from them.
_
Words between Worlds
Our on-going programs continue to enrich audiences in schools, museums, religious and other organizations. Contact us to explore hosting one soon in your or a friend's institution.
A Project that Creates Space for Encounters and
Exchange between Germans and Non-Germans
Former East Germany generally, but Dresden specifically, faces a considerable challenge at present:
few non-Germans live here. At least so it seems, as many people in the region don't personally know any foreigners, yet fear or disdain them. And, fear breeds conflict.
Spuren e.V. has five solutions: a Malaysian Buddhist, a native Navajo, an Israeli Jew and a Midwest Quaker, a Russian Jew and erasmus-students from Jordan and Armenia.
They bring young people into direct contact with foreigners living in Germany. And, they offer pupils and their families a relaxed, non-polemical space where they can share their own stories with others.
Words between Worlds focuses not on the abstract or political but on the immediate and personal. Its co-facilitators believe that while we all live in a neighborhood, each of us first lives in a house: To make conscious our belief-driven behaviors, then confront and finally change them, we best begin at home. Thus, participants are invited to examine their origins and lives, and those of their families.
Words between Worlds is:
an enriching experience for 9th– to 12th-grade pupils and, if hosts wish, their families
built around a core 90-min. Power-Point-illustrated presentation for schools, churches, etc.
able to be tailored to fit each host's needs, conditions and resources. A visit to a school can take place as a one-time assembly, or as half-, full-day or weekend workshops, using diverse means. Depending on the audience, its main working languages can be German or English.
For more information see www.DE.TRACES.org; to apply to host or attend a workshop, contact staff@TRACES.org.
Thank you for your interest!
_