5 november 2023
2 november 2023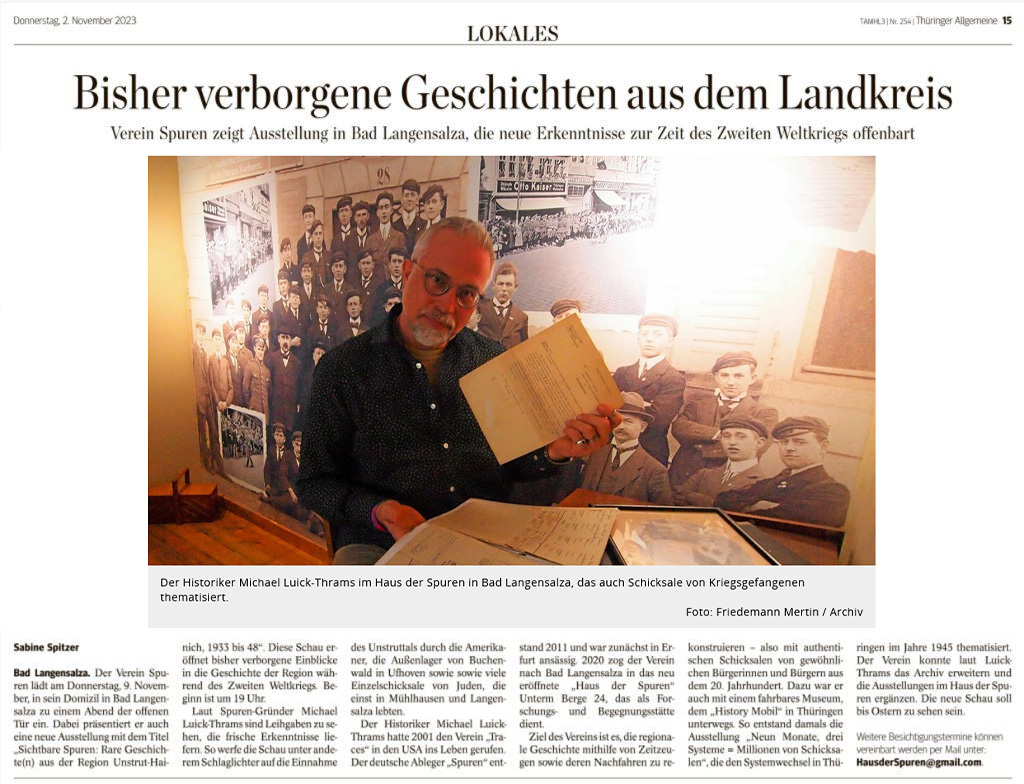 THÜRINGER ALLGEMEINE
Tuesday, 2 November 2023                                                LOCAL NEWS                               
HIDDEN STORIES FROM OUR COUNTY
The Society "Spuren" shows exhibition in Bad Langensalza,
revealing new insights into World War II
Sabine Spitzer
Bad Langensalza. The Society "Spuren" invites on Thursday 9 November to an Open House Evening in its residence in Bad Langensalza. They will show a new exhibition with the title "Visible Traces: Rare Stories from the Region Unstrut-Hainichen, 1933 to 1948". The exhibition provides an insight into hidden stories of the region during World War II, which were until now unknown. Start will be at 19 hours.
According to "Spuren" founder Michael Luick-Thrams, items on loan can be seen which bring new insights. The exhibition highlights the taking over of the Unstrut valley and the satellite camps of Buchenwald by the Americans, and it also shows individual fates of Jews who once lived in Mühlhausen and Langensalza.
In 2001 "Traces" was founded in the US by historian Michael Luick-Thrams. The German section "Spuren" came into being in 2011, at the beginnning in Erfurt. 2020 the Society opened the "Haus der Spuren" in Bad Langensalza, Unterm Berge 24. It serves as a place for research and meeting.
The Society's goal is to reconstruct local history with the help of contemporary witnesses and their descendants – also recounting authentic fates of citizens in the 20th century. For this Luick-Thrams was also in the move with the "History Mobil" in Thüringen. At that time the exhibition "Nine months, three systems = millions of fates" came into being, broaching the issue of the change of systems in Thüringen in 1945. According to Luick-Thrams the Society was able to enlarge the archive and complement the exhibitions in the "Haus der Spuren". The new exhibition will be shown until next Easter.
Further appointments to view the exhibition
can be made by mail to:
HausderSpuren@gmail.com
4 October 2023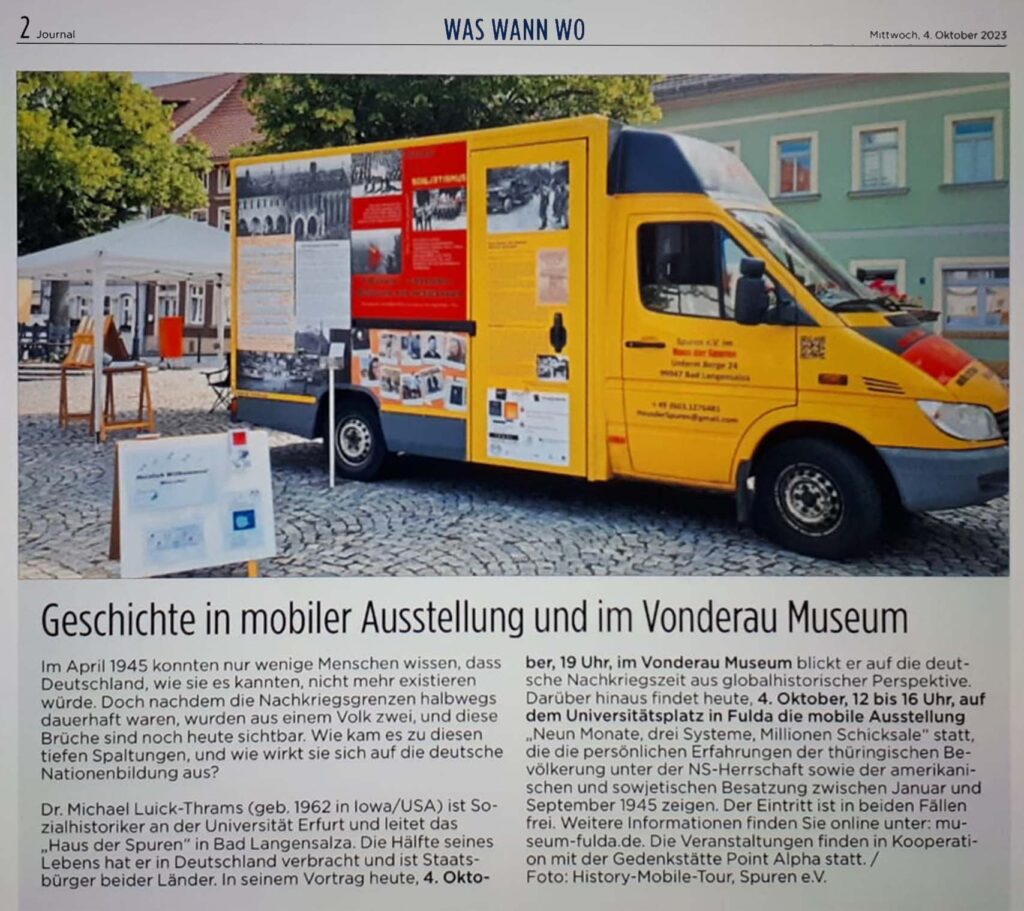 "Man kann nicht nicht politisch kommunizieren"
Die Erinnerung wachhalten: Unterwegs mit dem "rollenden Geschichtsmuseum"
Mobile Ausstellung in Fulda – Kriegsende in Erinnerung rufen
20 July 2023
3 July 2023
30 March 2023
6 December 2022
15 November 2022
21 August 2022
13 August 2022
12 August 2022
9 August 2022
8 August 2022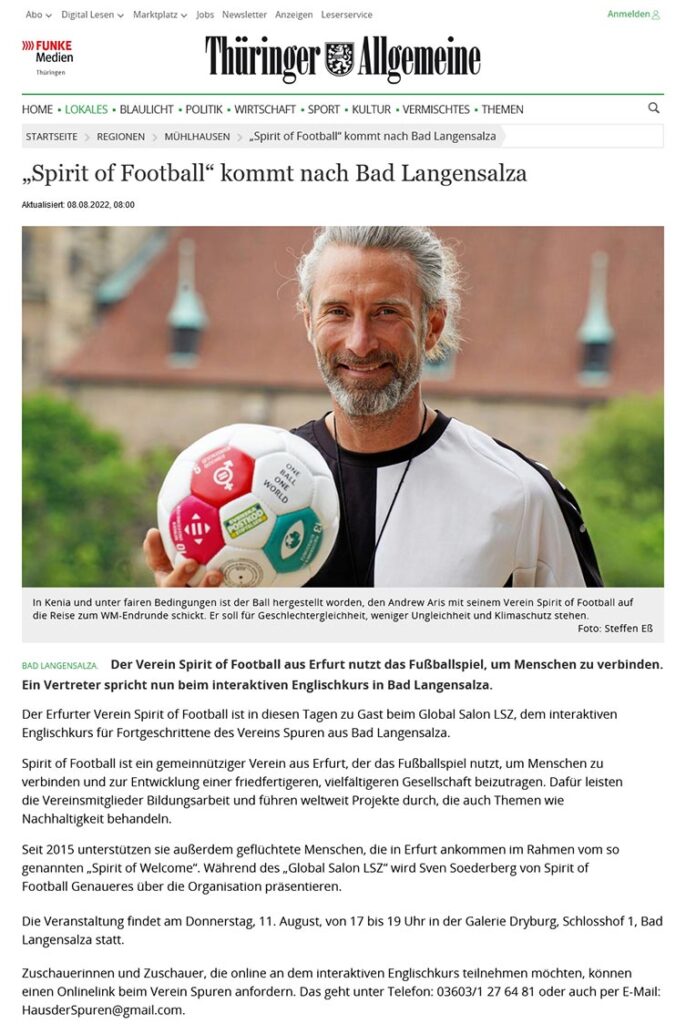 2 August 2022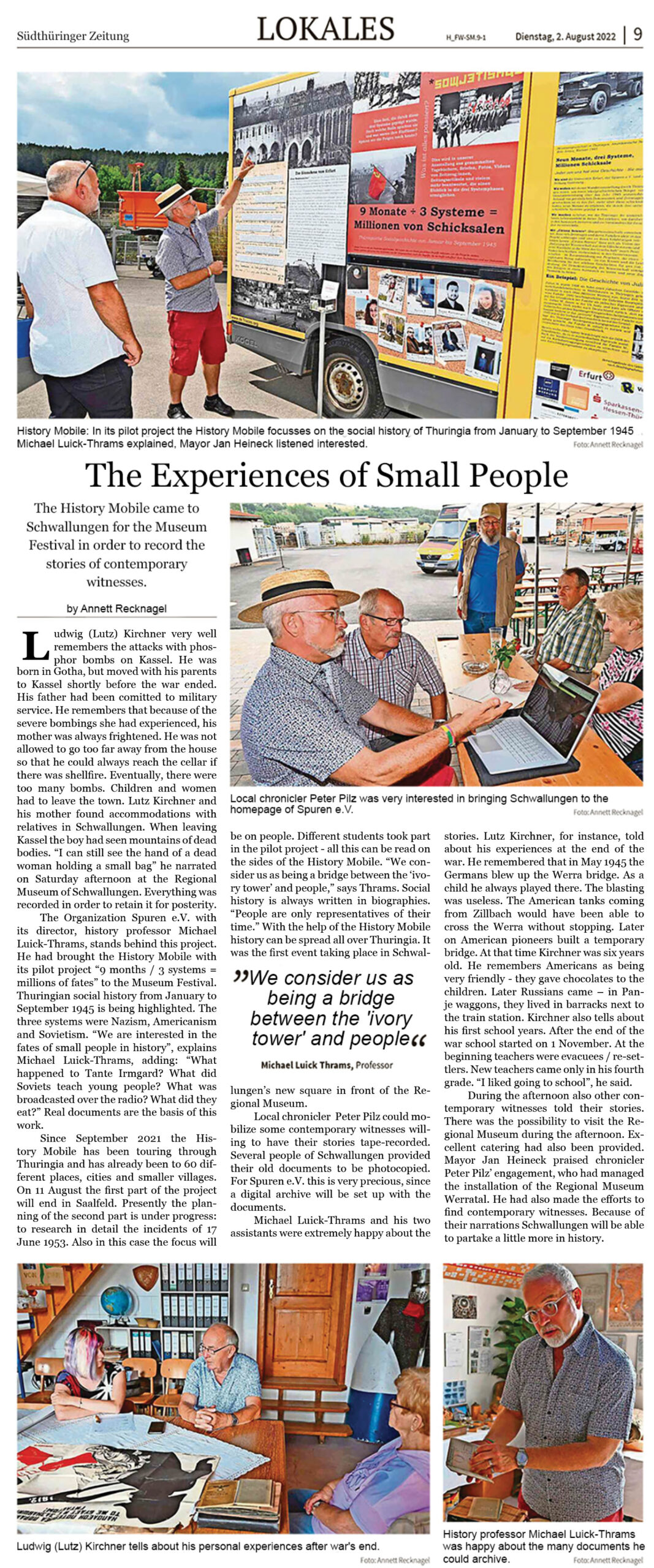 8 July 2022
7 July 2022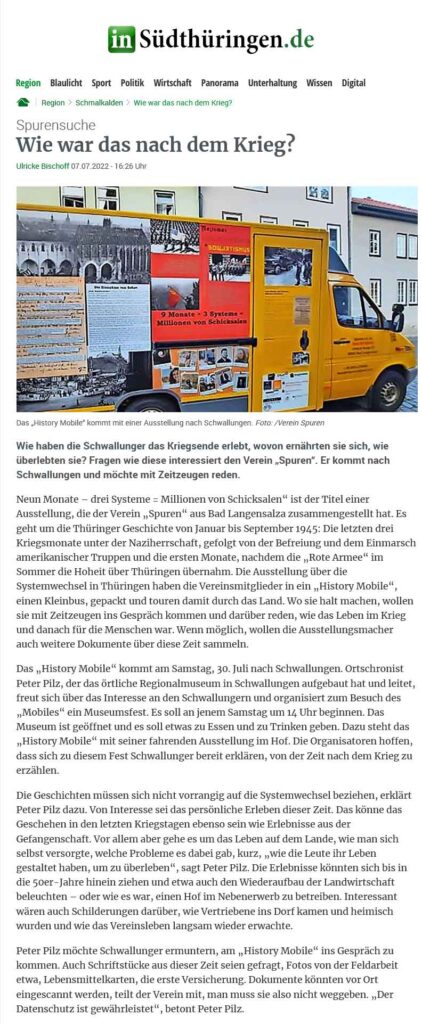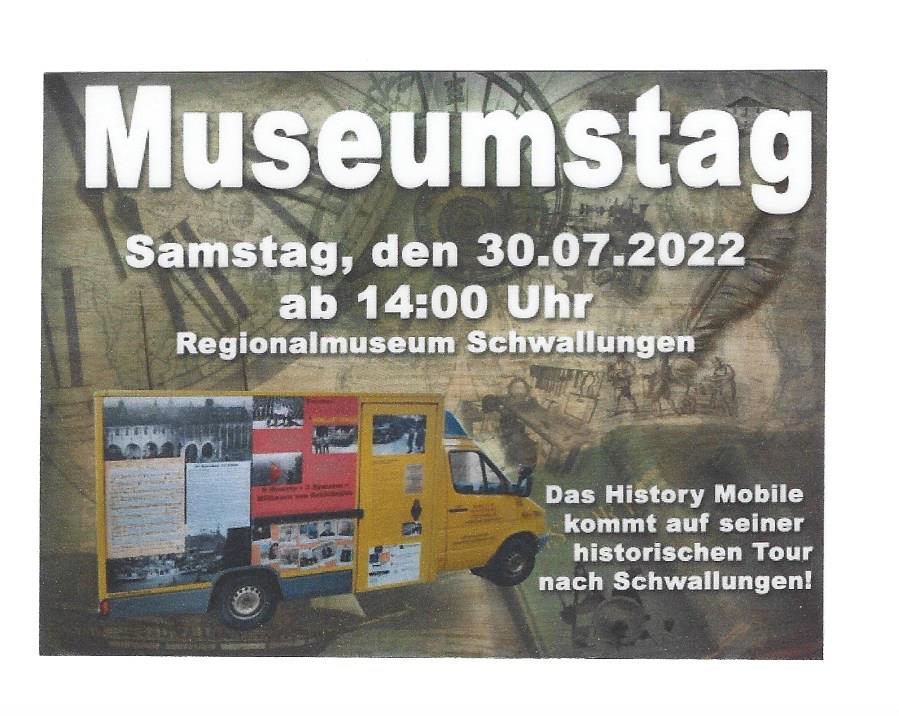 5 July 2022
16 June 2022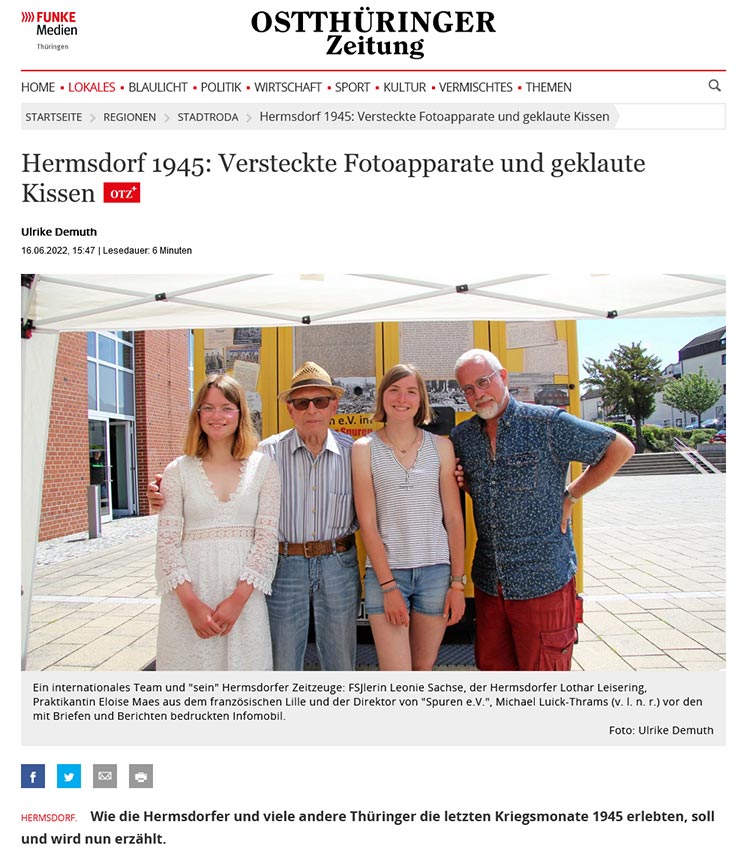 11 May 2022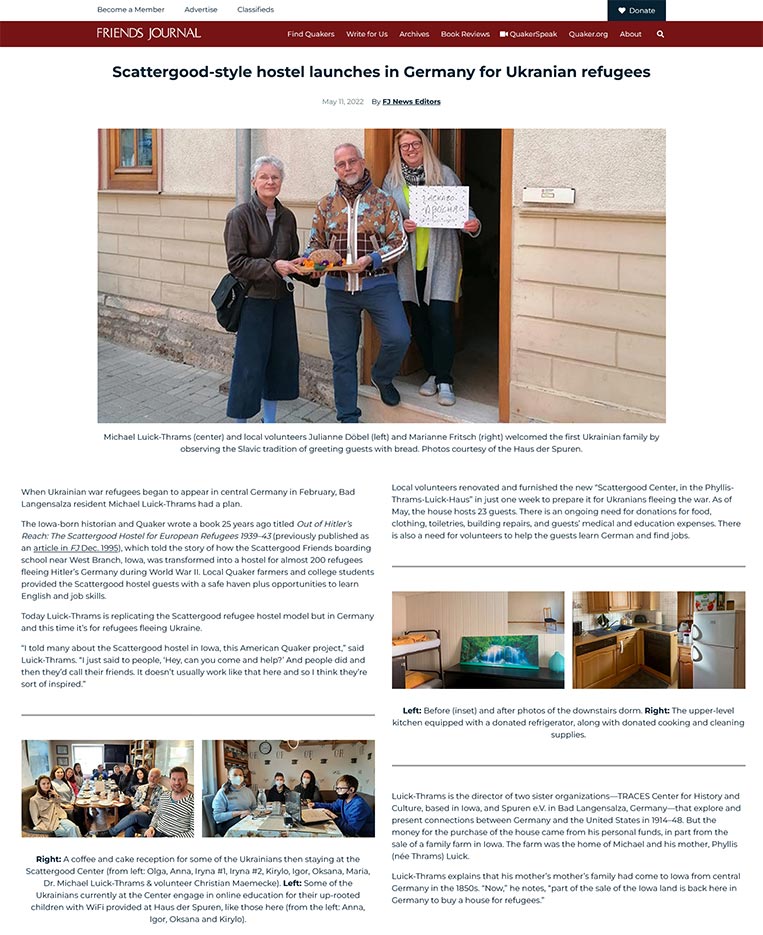 4 May 2022
3 May 2022
19 April 2022
13 April 2022
31 March 2022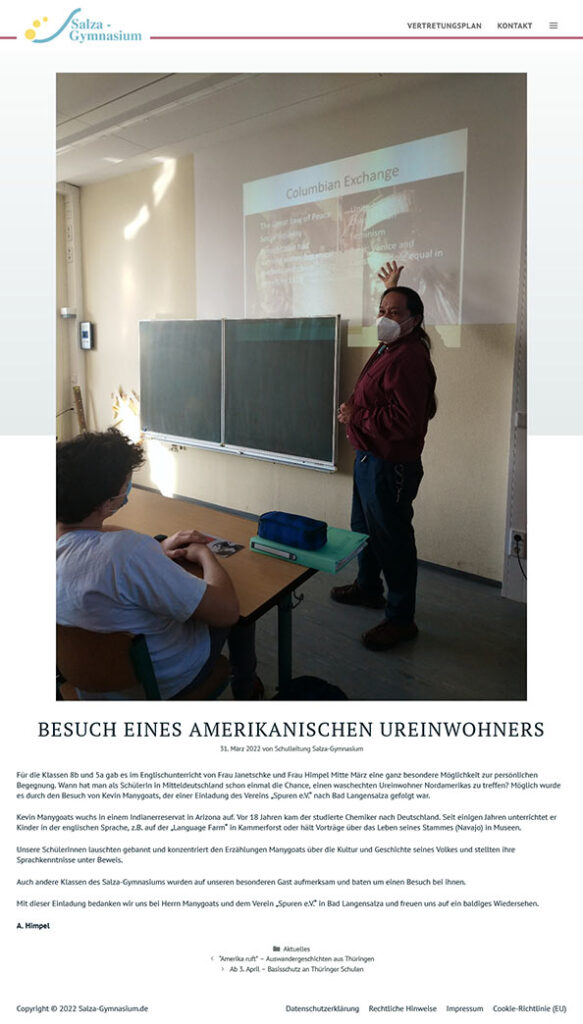 5 March 2022
4 March 2022
12 February 2022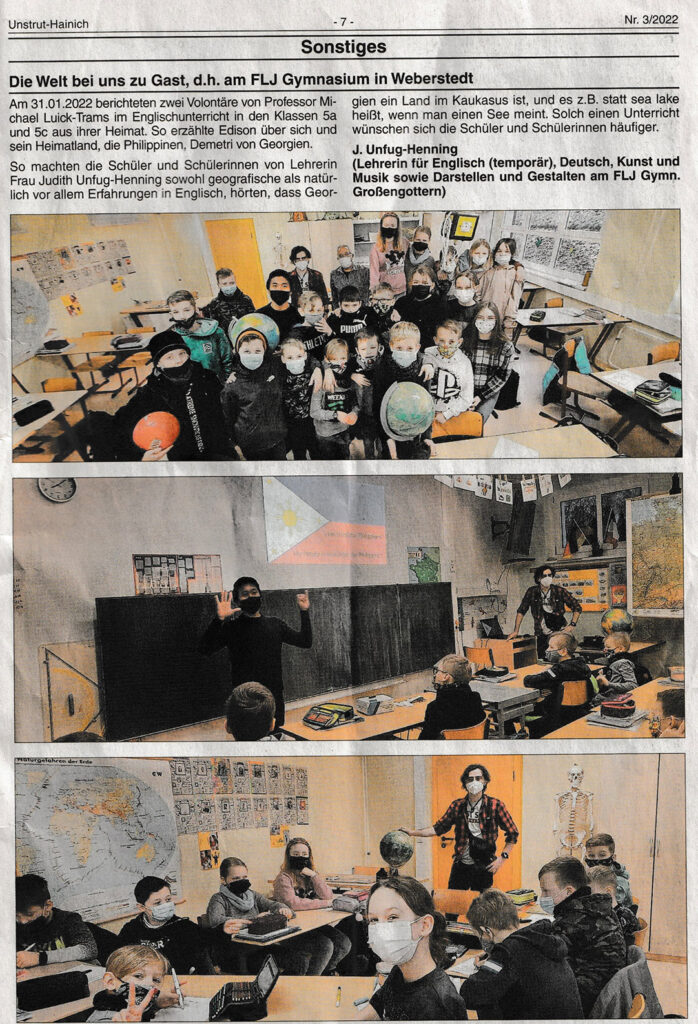 12 February 2022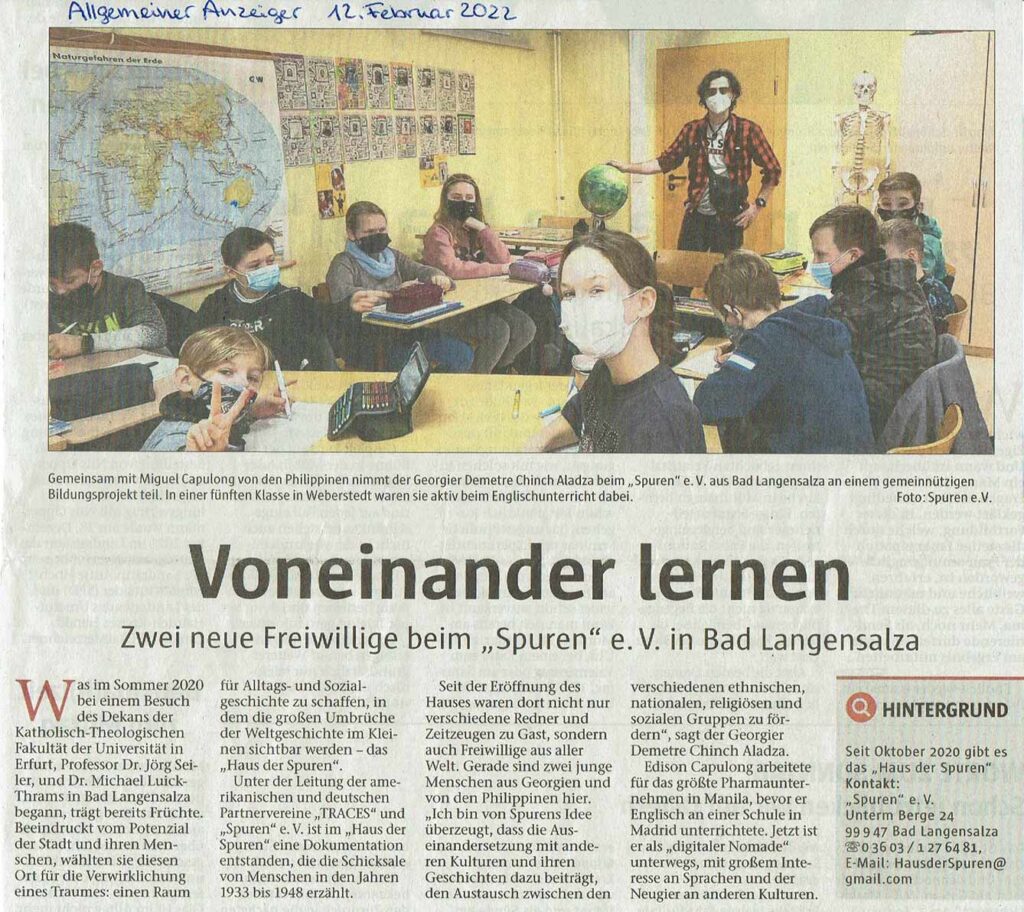 26 January 2022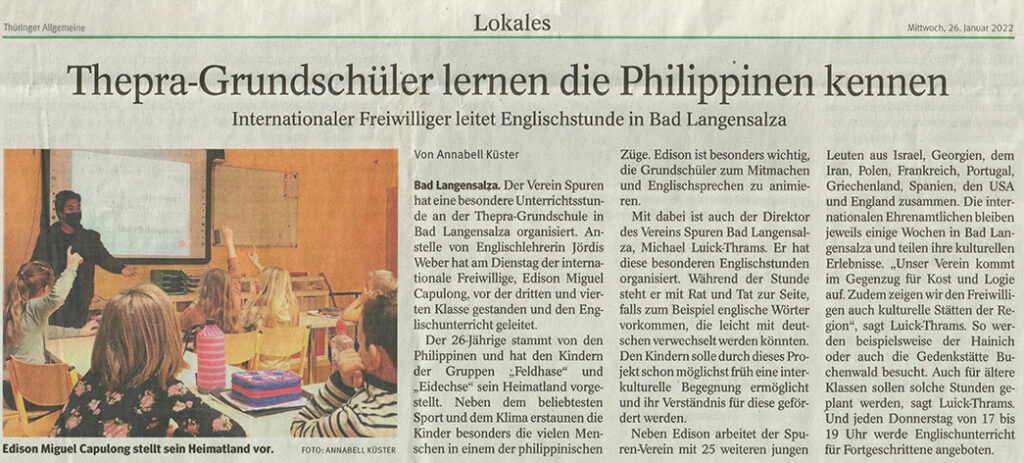 25 January 2022
20 January 2022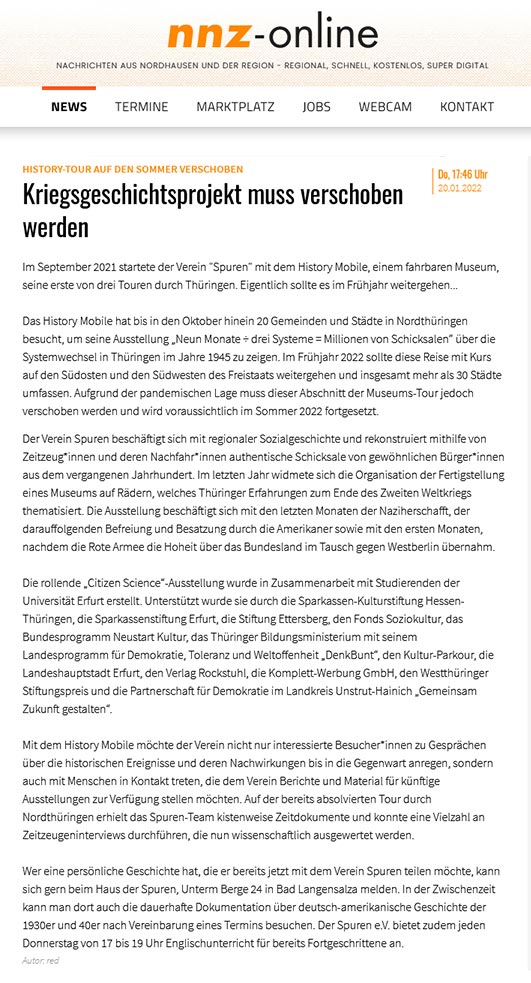 9 November 2021
18 October 2021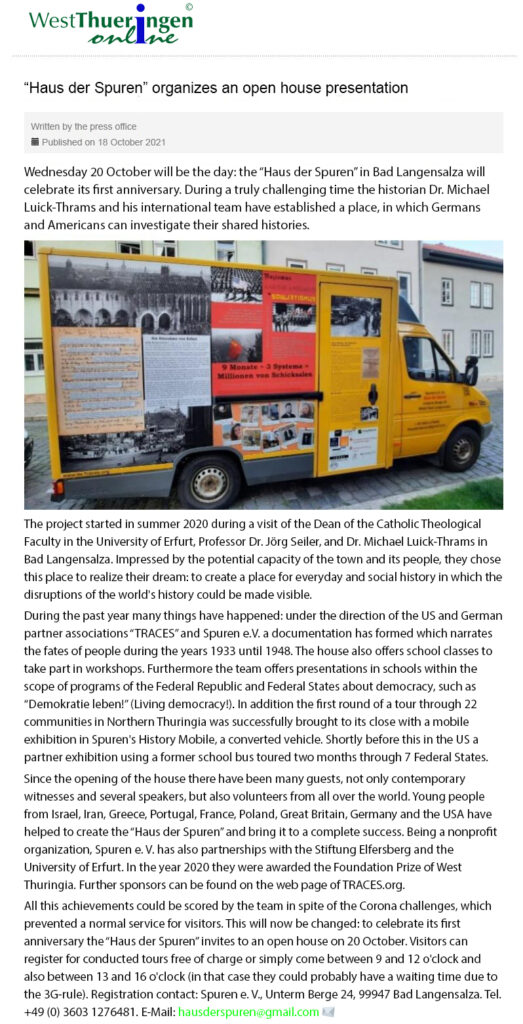 7 October 2021
23 September 2021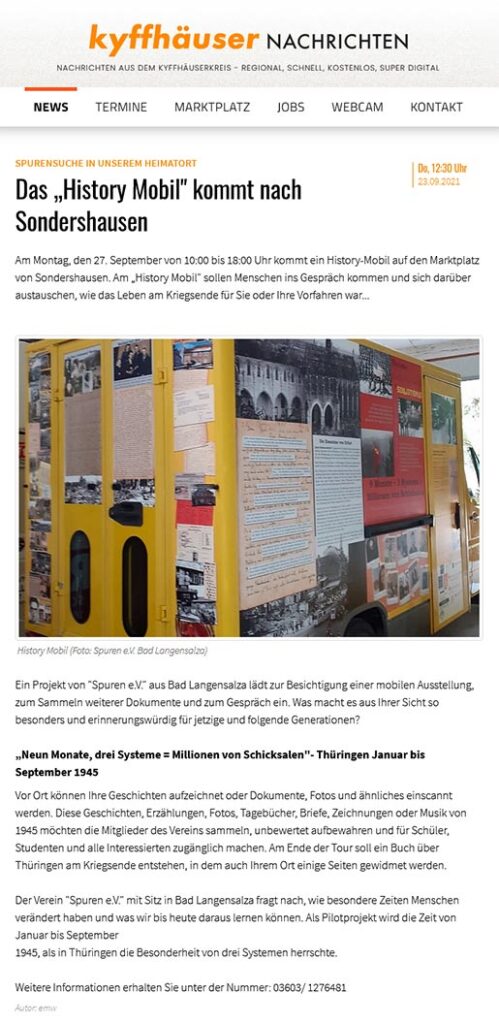 15 September 2021
9 September 2021
8 September 2021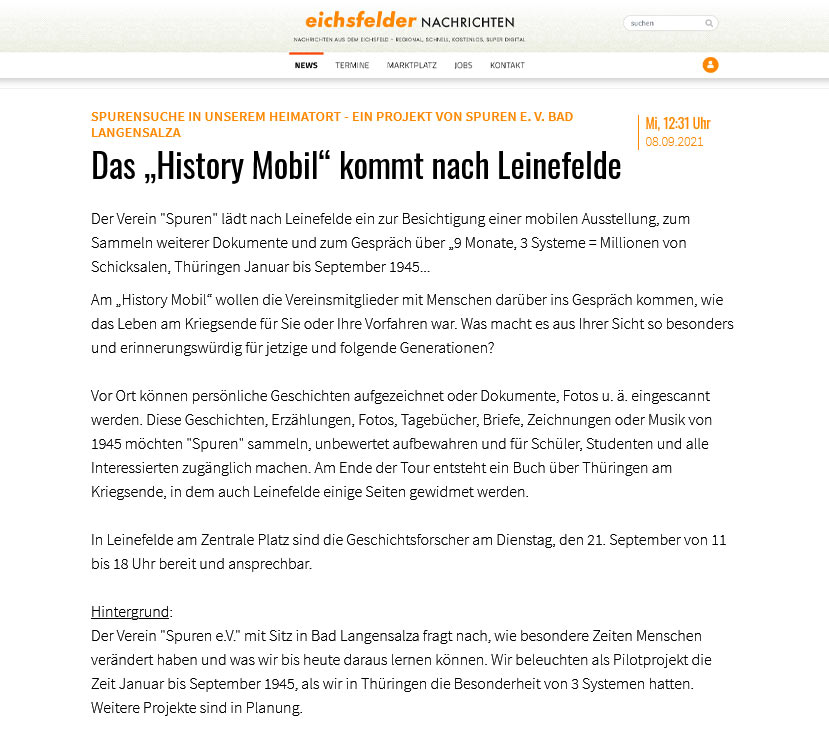 September 2021
September 2021
27 August 2021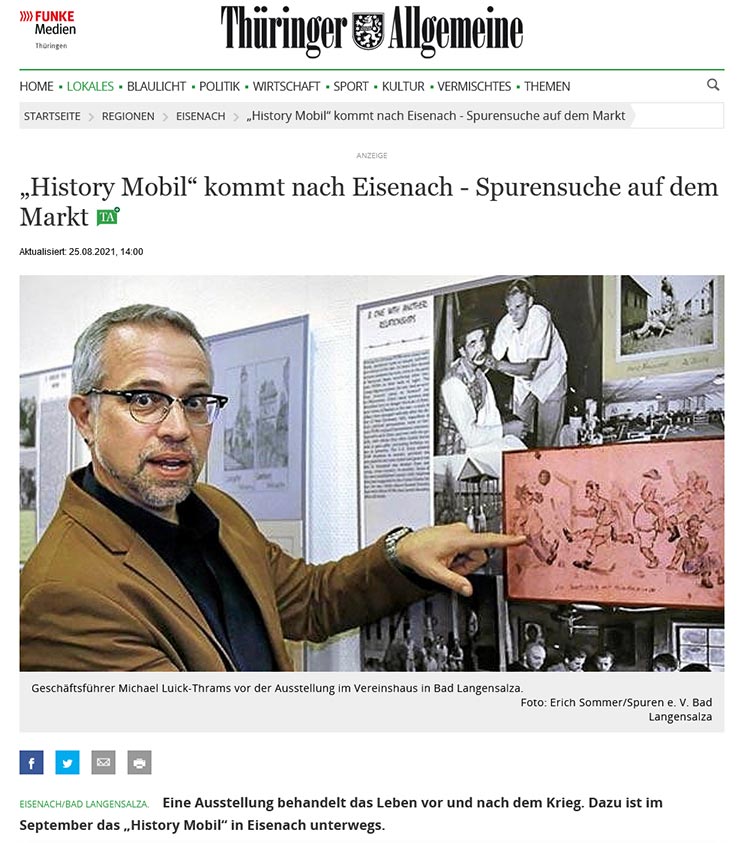 27 July 2021
25 May 2021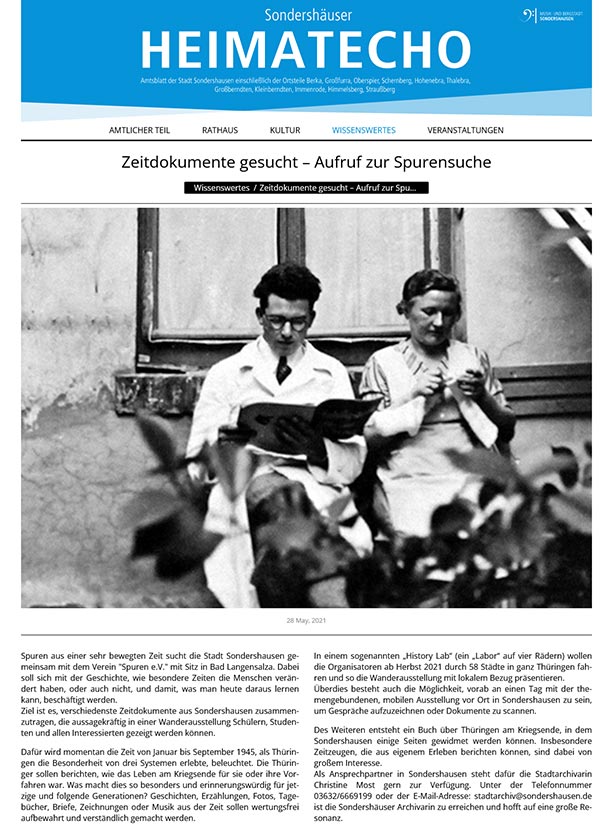 25 May 2021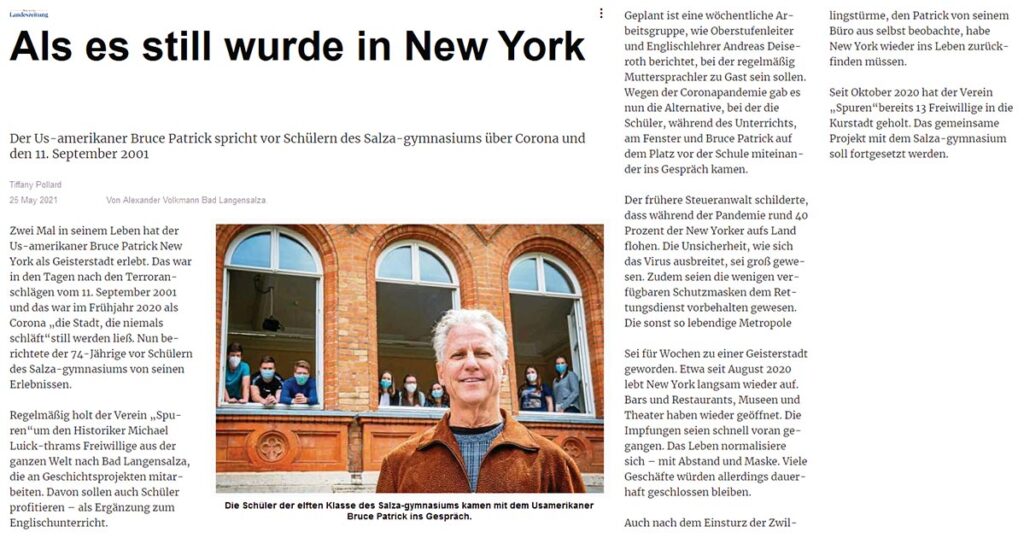 10 October 2001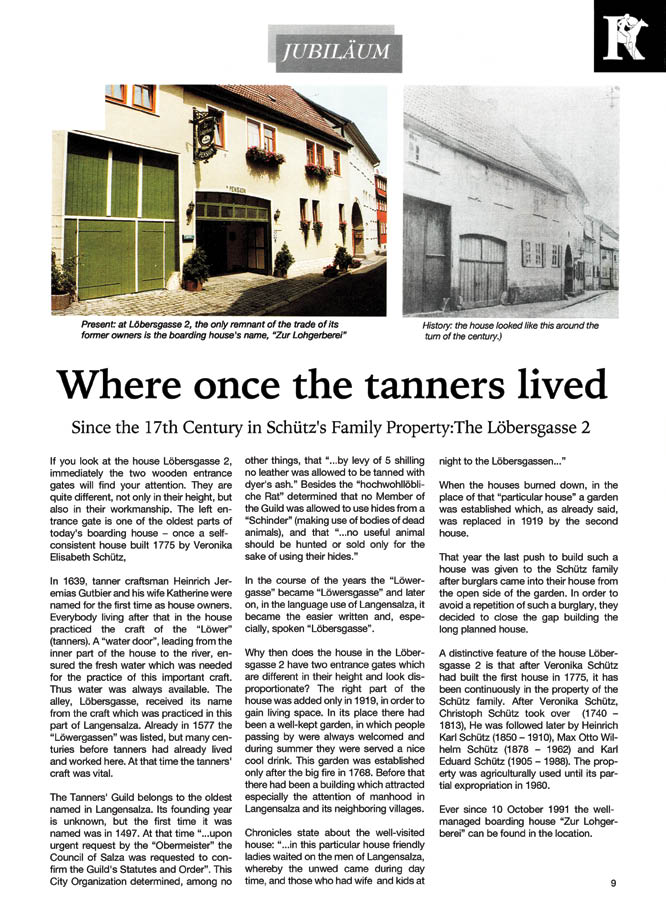 30 April 2021
13 April 2021
9 April 2021
30 March 2021
27 March 2021
18 March 2021
20 February 2021
18 February 2021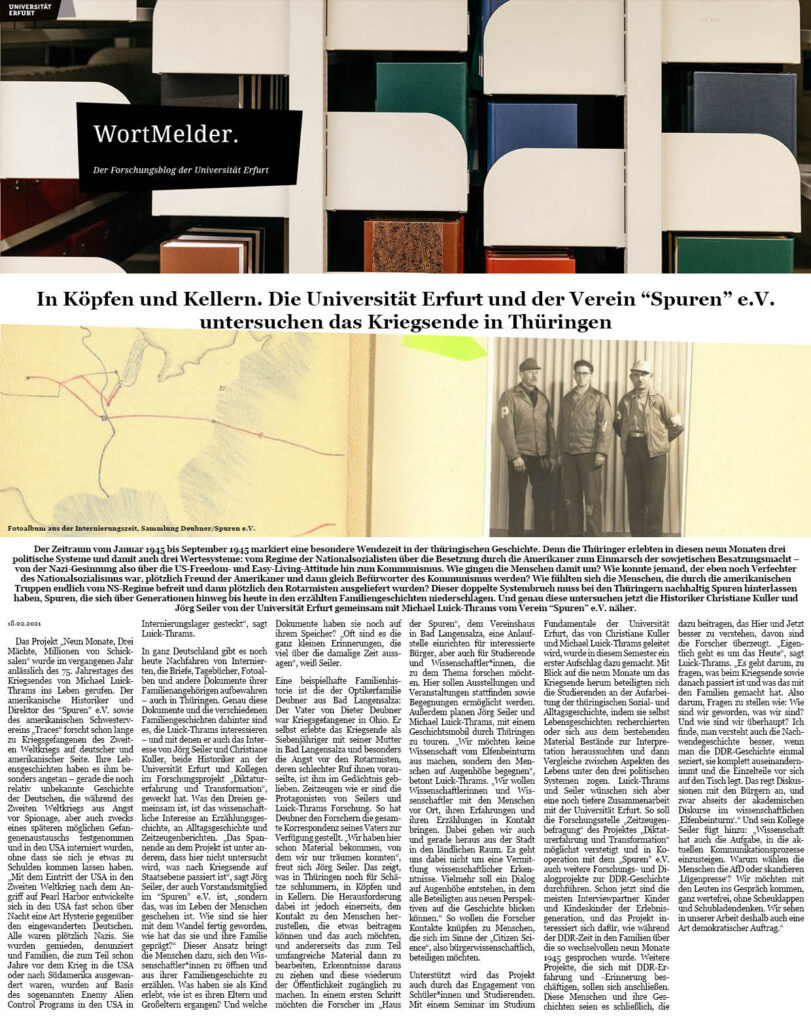 9 February 2021
6 February 2021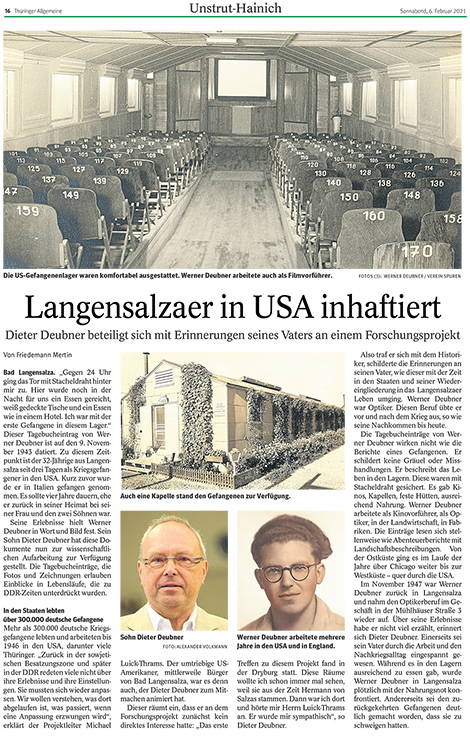 16 December 2020
P.M. History Spurensuche 2020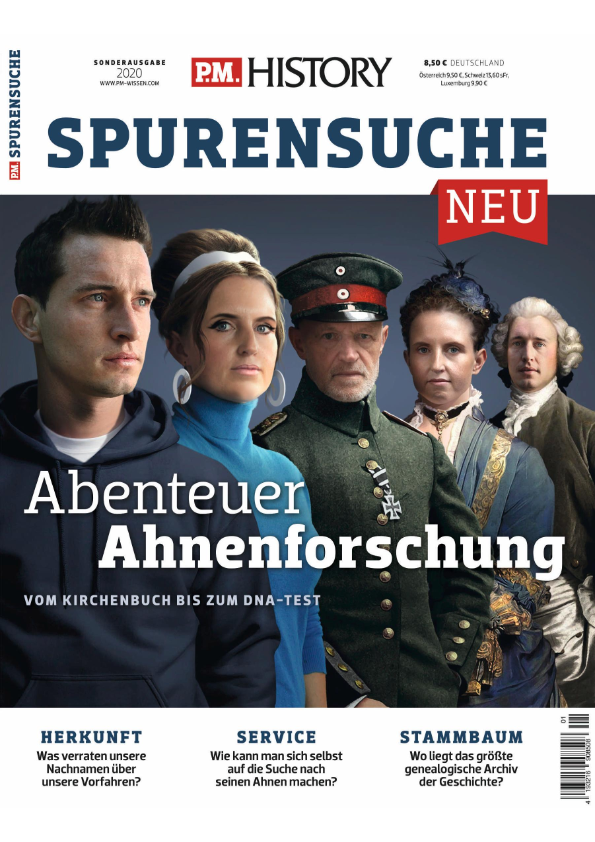 21 November 2020
6 November 2020
2 January 2020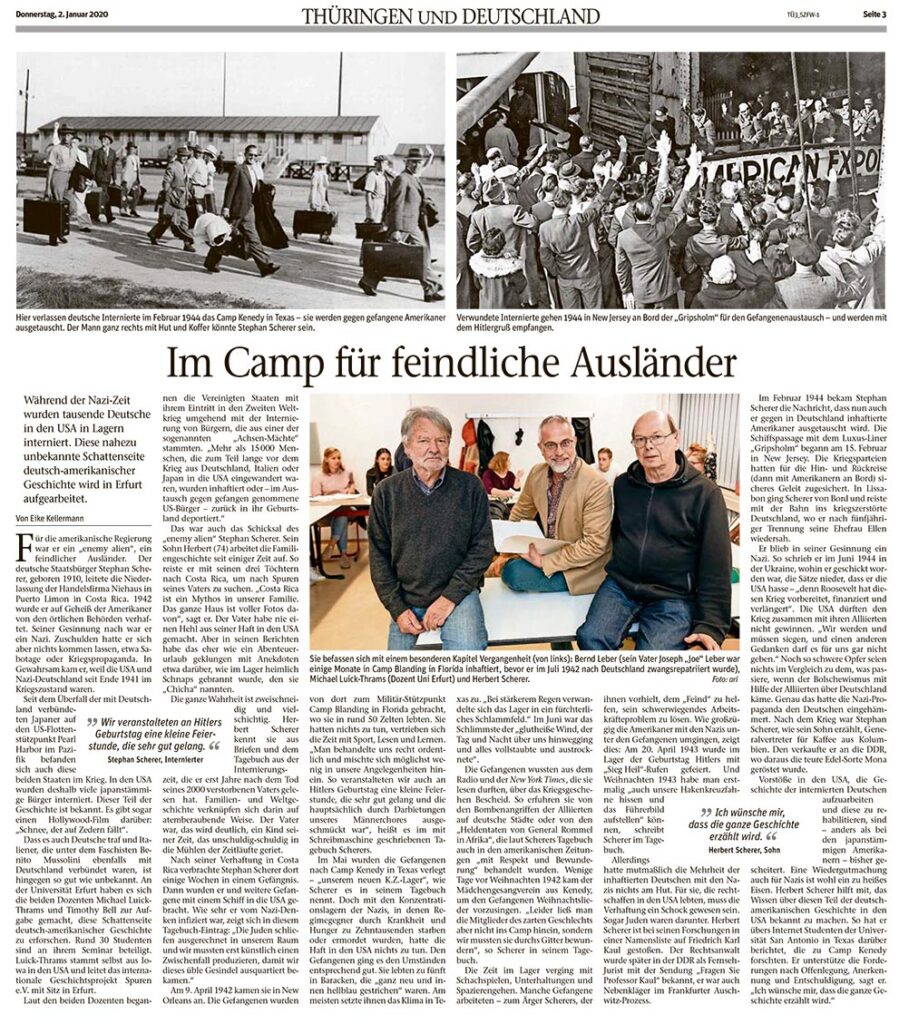 16 October 2020
14 October 2020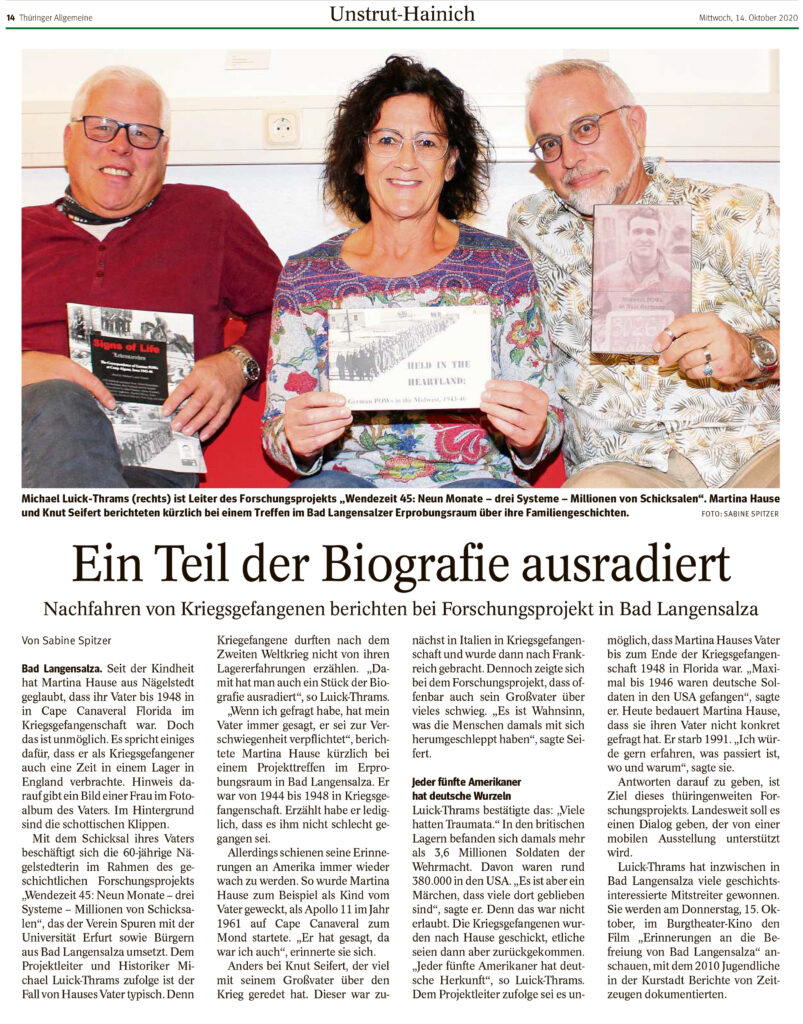 27 September 2020
24 September 2020
30 January 2020
3 October 2019
My Life between Two Worlds [translation of above German article]
Anneliese Krauter has a special story. Her father worked in Meiningen before her parents immigrated to the USA, where Anneliese was born in 1935. "We lived quite normally," she says, until one day in December 1941 changed everything.
by Markus Kilian, Meiningen
Her arms rest on the back of her chair, her gaze sweeping around her through the crowd, her voice is clear and calm. Anneliese "Lee" Krauter can still remember her childhood. Word for word she creates a life story between Germany and the United States, between war and peace, between East and West. The 84-year-old describes her experiences to nearly two dozen students of the Regular school at Kiliansberg, which is participating in the "Week of Democracy" on Tuesday morning, the workshop "My Family, My Nation, My World" under the direction of Michael Luick-Thrams [Exec. Dir. of TRACESpuren]. "I'm here to tell you what happened to one German family."
Anneliese Krauter (née Wiegand) was born in New York in 1935 as a child of German immigrants. Her father Otto came from Bettenhausen and worked in Meiningen as a butcher in the 1920s, then moved to Hamburg, where he met Anneliese's mother Alma. "The years after World War I were bad" explains Krauter. Therefore, her parents decided to emigrate to the US, where they married in 1927. "They wanted to live the American Dream."
While Anneliese, her mother Alma and her four-year-older brother Freddie received American citizenship, this was delayed for her father: He worked a lot and barely had time for it, recalls the guest. "We had become a German-American family." In their environment, in a Brooklyn neighborhood, the Wiegands also frequented German clubs, such as the choir and the gymnastics club. Krauter looks back on a very normal way of life: Until 7 December 1941—when the Japanese air force attacked the Hawaiian harbor of Pearl Harbor, prompting the US to enter World War II—and her life changed abruptly for the German family in America: "Almost overnight, Nazi hysteria broke out in the US," Krauter describes the changed situation. "The children we were playing with suddenly called us 'Nazis'. This was my first experience of discrimination. In addition, the windows of our butchery were smashed." A problem: Her father still had not received US citizenship.
"At that time there was still not the digital technology as today," added course leader Michael Luick-Trams, "but still the FBI had a list of all Germans in the country." In July 1942, six months after the Pearl Harbor attack, two men from the US Bureau of Investigation picked up the father at the butchers shop. Anneliese Krauter remembers the day exactly: "'We'll bring him back tonight,' they said, but he did not come back." Otto Wiegand was instead taken to a detention center in Bismarck, North Dakota—and the family torn apart from one night to the next. American detention camps included populations of Axis countries such as Germany and Japan during the Second World War. The inmates were not subjected to violence there.
For Anneliese, brother Freddie and mother Alma, the separation from their father and husband was difficult. Finally, a befriended lawyer made it possible for the entire family to move a detention center in Crystal City, Texas. "We packed a few suitcases, closed the door and were gone." The railway brought the three from New York to their new home in the south, where the family lived together in a small barracks alongside many other internees. "We were locked up, everything was taken from us." She emphasizes the difference to the concentration camp: "We didn't have a bad life there, the atmosphere was peaceful and friendly—even to the American staff."
The detention center resembled a small city: "We had a German and an English school, a clinic, and a canteen where my dad worked." Even a pool to cool off from the tropical temperatures in Texas. "We tried to make it as nice as possible there. Therefore, among other things, the walls were painted colorful and flower fields planted." A newspaper in the detention camp informed inmates of up-coming events or diseases of other inmates.
However, their life was surrounded by a tight and guarded fence. "We waited for the war to end." The American dream had burst, and the family's wish of return to Germany had grown stronger and was eventually fulfilled in February 1944.
In exchange for Europeans wanting to repatriate to the USA, the Wiegand family travelled by ship to the Portuguese port city of Lisbon. From there, within a few weeks, they reached Saarbrücken via Biarritz by train. "The German army received us solemnly" describes Anneliese. "We were welcomed with open arms." After 20 years in the USA, the family returned to the father's old home town, Bettenhausen, before being permitted to move to Meiningen. "There we got an apartment 'Am Weidig;' the war wasn't over yet, but we had found peace." remembers Anneliese. Because of their good English language skills both the father and the older brother Freddie worked as interpreters for the US-troops stationed in Germany after the war had finally ended. The family developed a friendly relationship with the Army officers.
When in July 1945 Thuringia was to be handed over to the Russians, the Wiegand family once again had to flee. "The Americans didn't want to leave us behind." Hidden on a military transport, the four travelled with the Allied forces to Würzburg and arrived six weeks later in Attenkirchen, in Upper Bavaria. The escape was successful, but Anneliese didn't stay long in Attenkirchen.
Through her brother, the then-17-year-old Anneliese met in March 1952 her future husband Joe Krauter, who had worked for the American Airforce. A year later Anneliese and her family again returned to the USA, almost 30 years after emigrating there the first time.
Since then the German-American lives there and has four sons; her husband died in 2015. She wrote a book about her fateful life. "From the Heart's Closet" starts with the words "I am a woman of two worlds and this has affected all circumstances of my life."
Press release:
It was wartime on the US home front. She was an American—wasn't she? Anneliese had been born in New York, of German-immigrant parents (one already naturalized, one awaiting that). As citizens, the eight-year-old girl, her older brother Freddie and her Waldorf-hotel salad-chef mother "should" have been guaranteed due process when "Lee's" father was interned as a suspected traitor—but they were not. Instead, they "voluntarily" took residence at Camp Crystal City, until they, too, were "repatriated" and forcibly sent to Europe, where the family was traded for Axis-held US nationals… and then the Wiegands' adventure really started!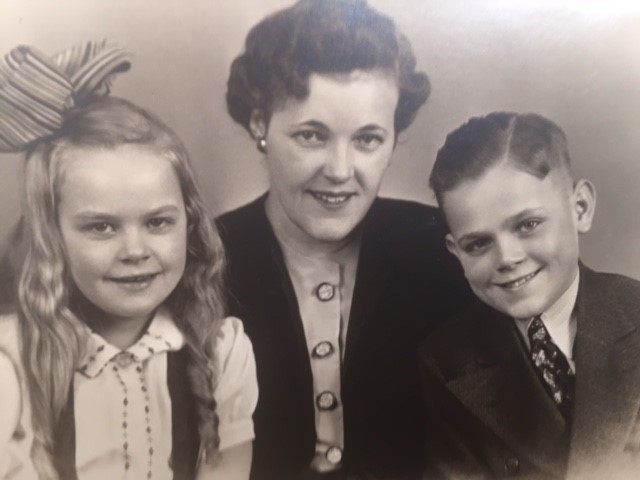 caption written by Anneliese (left): "Xmas 1942 family pic we sent to Pappi
while he was in internment camp" near Bismarck, North Dakota; the
photo shows Anneliese, mother Alma (née Wiedrich) and brother Freddy
At the end of September and beginning of October 2019, Lee will visit Meiningen to speak at a school, as well as visit her old "stamping grounds" where her deported family found a home. Sponsored by Spuren e.V. (www.TRACES.org), she welcomes an interviews: 0049.176.34 38 70 65 or contact her directly at annelie235@aol.com.
About the speaker:
Anneliese "Lee" [Wiegand] Krauter was born to a German immigrant family in New York. During World War II, her family was detained in the civilian internment camp at Crystal City, Texas: A short US government 1945-46 color film about the camp is at:
https://www.youtube.com/watch?v=WRfSHgdh2UA&feature=youtu.be
left: Anneliese "Lee" [Wiegand] Krauter; Director of Spuren e.V., Michael Luick-Thrams with Anneliese after his lecture at the Indiana Historical Center, Indianapolis/USA, 16 October 2018
They were "repatriated" and sent to the Third Reich, where the family found a haven in her father's hometown, Meiningen. Just in front of the Red Army, they fled to Bavaria, where she met her future husband, Joe Krauter, a soldier with the occupying American forces. They married, then went to his native Indiana, where Lee still lives.
An honor student in both American and German schools, Lee attended the High School of Music & Art in New York City and earned a Certificate in Business from the Private Handelsschule Sabel in Munich, Germany, later taking courses in creative writing and journalism at Indiana University, Purdue University, Indianapolis.

After one of her sons was diagnosed with juvenile diabetes, she spent years volunteering with the American Diabetes Association, serving in both local and national positions. She earned many awards in the Association and was named National Outstanding Affiliate Volunteer of the Year in 1990. She was also appointed to the National Institutes of Health in Washington, D.C., for service on the National Diabetes Advisory Board. She functioned as a lay person representing the diabetes community, speaking on behalf of families living with Type I (Juvenile) Diabetes.

Lee has spoken about her life as a child in America and Germany to many school and adult audiences and has been a volunteer educator on living with diabetes in schools in Indiana. Her book, "From the Heart's Closet: A Young Girl's World War II Story," describes in detail her life in two countries, during both wartime and peace time. See: http://www.theschatzipress.com/ and https://www.thestoryoftexas.com/discover/texas-story-project/nicole-johnson-crystal-city
original subtitle: "Historical photo of German-American children interned at Crystal City"
—
3 March 2016
to view larger version, click on icon of above article
to view larger version, click on icon of above article
10 August 2013

May 2012

Summer 2004

to view larger version, click on icon of above article
27 September 2002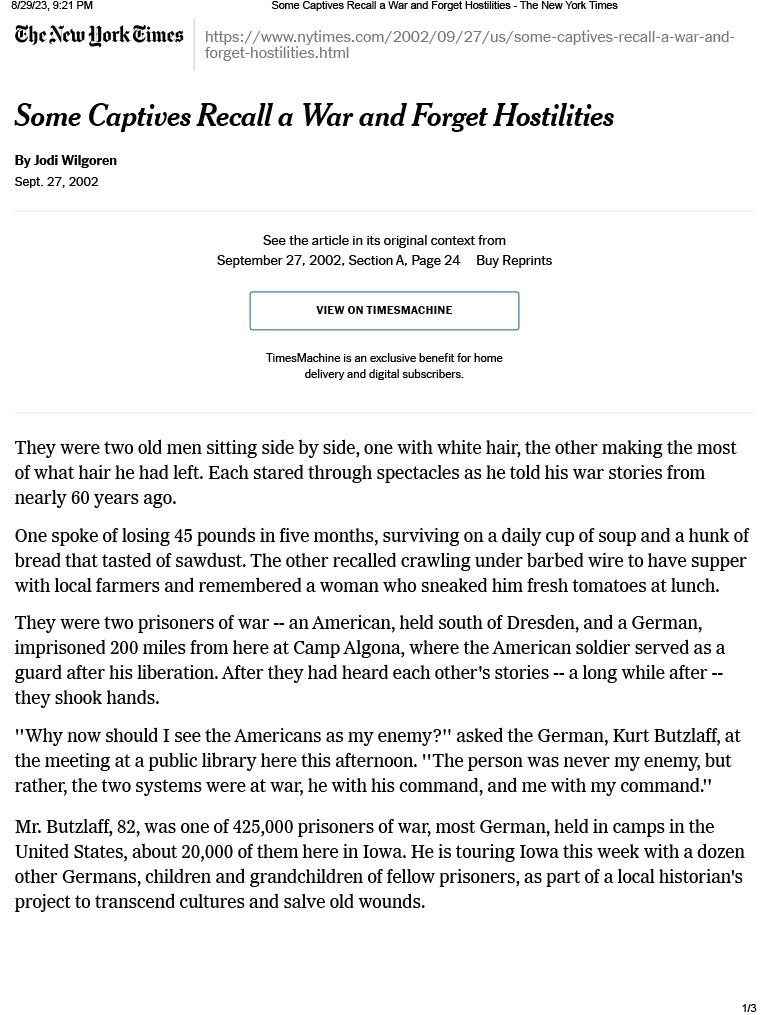 See the article in its original context from 27 September 2002, Section A, Page 24 on Timesmachine